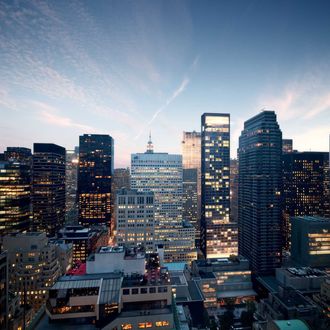 April 10: See correction at bottom.
Some real-estate brokers blog. Plenty others tweet. And some reel in clients via Facebook and Instagram. And then there are brokers who sell $13 million worth of real estate, sight unseen, via social media.
Last month, Ryan Serhant, a NestSeekers agent and one of the leads on Million Dollar Listing: New York, Bravo's sharky reality-TV take on New York City real estate, says his team* [correction: it was Douglas Elliman broker] received a message on WeChat, one of the most popular social networking sites in China, from an investor who wanted to buy property in the city. He was interested in purchasing a unit at the Baccarat Hotels & Residences, a luxury condo on West 53rd Street, and that he did. He wound up with two, in fact — a $10 million three-bedroom and a $3 million one-bedroom. All without having set foot in the city, let alone the building. (It's still being finished.)
Serhant says sight-unseen deals aren't all that novel in a city that attracts so many investors. Scores have been conducted by phone and email. But this one's different. "This price for a deal that was done and initiated 100 percent through social media and across the world?" he asks. "A complete stranger who learned about us via social media and basically gave us $13 million and change to invest in something that's not even been built yet in a city they've never even been to? I don't think [anyone else has done that]."
No question social networking is now an essential part of selling real estate. Serhant's Bravo co-star, Fredrik Ecklund of Douglas Elliman, told the Real Deal last month that about a quarter of his business results from his Facebooking, tweeting, and Instagramming. "It's a viable piece of the marketing mix," adds Matt Leone, director of web marketing and social media at Halstead Property, who trains agents at that firm on everything from Tumblr posting to Twitter sharing.
In the last year, Serhant says he's had about 25 transactions come through the online networking pipe. (One of them will unfurl this season as a story line on the show, which debuted last week.) Half of those were for apartments buyers have never even visited, though he's been known to Skype from properties so buyers get some sense of the space they're about to own. 
And now he's on Weibo, China's version of Twitter. "We just want to do more, more and more," he says. "You have to use every tool at your disposal."
Correction: Publicists from both the Baccarat and Douglas Elliman contacted Daily Intelligencer disputing Serhant's account that "his team" did this deal. Serhant now confirms that sole credit belongs to Elliman broker Emma Hao. Through his publicist, Serhant gave this statement: "The New York Magazine article about social media released on April 7th accurately reflects what I said during my interview. To clarify, I said that someone on my team did the deal at Baccarat. Emma is with Elliman but I still consider her part of my team. We work closely together and have taken out buyers together, we discuss many deals including Baccarat. We have filmed together, celebrated Chinese New Year, and I consider Emma family. Emma spends a lot of time in my office and we support each other as friends and in business." 
Hao is a forgiving sort. "It's a misunderstanding," she says. "That happens." There's certainly no misunderstanding a statement from Hao sent via an Elliman publicist, which says that Hao "brought the buyer to contract, who initially contacted me over WeChat. We spent time through a group I set up on WeChat discussing in Mandarin floor plans, lawyers, bankers, etc. Ryan Serhant is a good friend who with whom I discussed details of the unique social media aspect of the transaction, but he was not involved in a professional capacity. At the end of the day, the deal was mine."