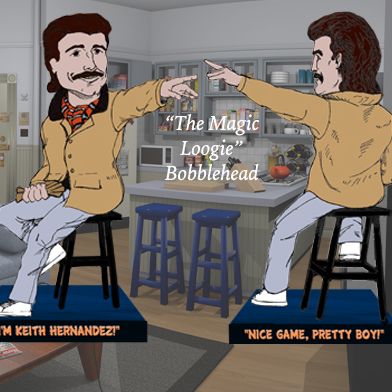 A rendering of the bobblehead, from the Cyclones website.
The Brooklyn Cyclones of the New York–Penn League are known for creative promotions — and for elaborate theme nights, in particular. And so on July 5, the team will mark the 25th anniversary of the debut of Seinfeld by hosting a salute to the NBC sitcom. For starters, the first 2,500 fans will receive a Keith Hernandez "Magic Loogie" bobblehead doll, a nod to the Mets icon's memorable appearance on the show. (Inscribed on the front: "I'm Keith Hernandez." On the back? "Nice Game Pretty Boy.")
Among the other things they have planned:
• The ballpark will be renamed Vandelay Industries Park for one night only.
• Free tickets for anyone that can prove they're a latex salesman.
• A low-talking P.A. announcer.
• An Elaine dancing contest, a cereal-eating contest, and a chance to run the bases after the game (with anyone named Jerry getting a head start).
• Players will wear puffy shirts during batting practice.
• Anyone named George Costanza will be allowed to call an inning in the broadcast booth — a reference to one of George's dream jobs.
The Cyclones' website has a complete list of activities. As of press time, there's no word if real spitter Roger McDowell will be given the day off by the Braves in order to attend.