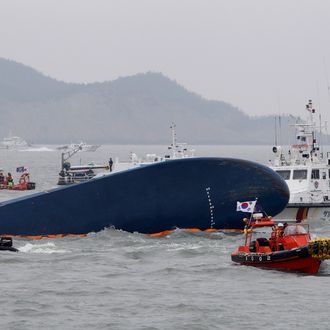 Photo: Chung Sung-Jun/Getty Images
On Saturday, the captain and two of the crew members from the Sewol, the ferry that sank on Wednesday near Mokpo, South Korea were arrested in connection with the disaster, which has left 32 people confirmed dead and over 280 still missing in the water. Prosecutors say that the captain, 68-year-old Lee Joon-seok, has been charged with abandoning his ship and people in need of help and violations of maritime law. Meanwhile, the boat's helmsman, 55-year-old Cho Joon-ki, and the 26-year-old Park Han-kyul are each facing three related charges.
Park, who was steering the ship though the Maenggol Waterway when it began tilting to one side, had never navigated that area on her own before. The New York Times notes that the waterway "has a reputation for the fastest and most unpredictable currents" around the Korean Peninsula. While prosecutors said that there was "nothing legally wrong with" putting Park at the wheel, it does "give us important data on how well qualified she was."  Lee, who was required to be overseeing the crew when the boat hit rough waters, admitted, "I gave instructions on the route, then briefly went to the bedroom when [the accident] happened."
The captain, who was one of the first people from the ferry to reach safety via lifeboat, apologized again to the families of his passengers as he was led away by police. However, he defended his decision to wait a half hour to begin evacuating the ship after it was clear that something was wrong. (Many passengers say they were never told to leave the boat.) "At the time, the current was very strong, the temperature of the ocean water was cold, and I thought that if people left the ferry without (proper) judgment, if they were not wearing a life jacket, and even if they were, they would drift away and face many other difficulties," he told reporters.
Meanwhile, divers' efforts to access the sunken Sewol have been hampered by the muddy and fast-moving waters. On Friday, one spotted three bodies inside the ship, but was unable to get to break the windows to get to them. The Associated Press reports that three boats carrying cranes to salvage the ferry have arrived on the scene, but they are waiting for the permission of the families of the missing to begin their work, as moving the vessel could endanger the lives of anyone still alive inside, in the unlikely event there are any.