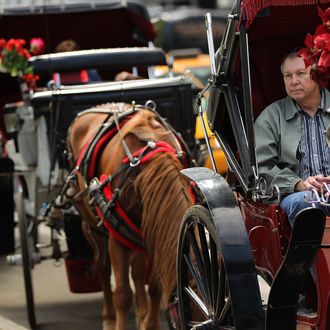 Photo: Spencer Platt/2010 Getty Images
With debate over Mayor de Blasio's promised horse-carriage ban pitting animal rights activists against Liam Neeson on a semi-regular basis, it's a particularly bad time for sketchy behavior by the drivers: Enter Frank Luo, who didn't do his industry any favors when he put the I.D. number of a healthy, 12-year-old horse named Carsen on the hoof of a sick, 22-year-old horse named Ceasar. (Ceasar has something called "heaves," which is like asthma.) The Associated Press reports that a vet noticed the apparent switch during a January evaluation of Ceasar, whose "physical characteristics and medical condition" did not match the identifying information provided by Luo.
Luo insisted that it was just a misunderstanding: "It's just very confusing because they look alike," he said. He even submitted more paperwork intended to prove that the horse was who he said he was, including a letter from a guy in Pennsylvania who claimed that Ceasar had been resting on his farm for months. But five days after the city requested additional proof, the driver's lawyer said that the animal had been sold. The Department of Consumer Affairs is still investigating what happened.
This isn't the first time Luo has run afoul of regulators, the AP notes. In September, he was cited for using two horses to haul people without proper licenses, as well as for "false advertising, overcharging customers and operating a carriage for more hours than allowed." His company, Manhattan Carriage Co., paid a fine and has allowed him to continue working.
If there are more stories like Luo's, they might come out soon. On Monday, a Manhattan judge ruled that the NYPD must comply with a Freedom of Information Request from the Animal Legal Defense Fund. The group wants the department to give them any records related to horse-carriage "incidents," including health and safety issues, as well as accidents. The NYPD has 45 days to hand over the materials, which means that the anti-horse-carriage crowd will have plenty of time to publicize whatever dirt exists well before the end-of-the-year deadline de Blasio gave himself and the City Council to follow through on the ban.