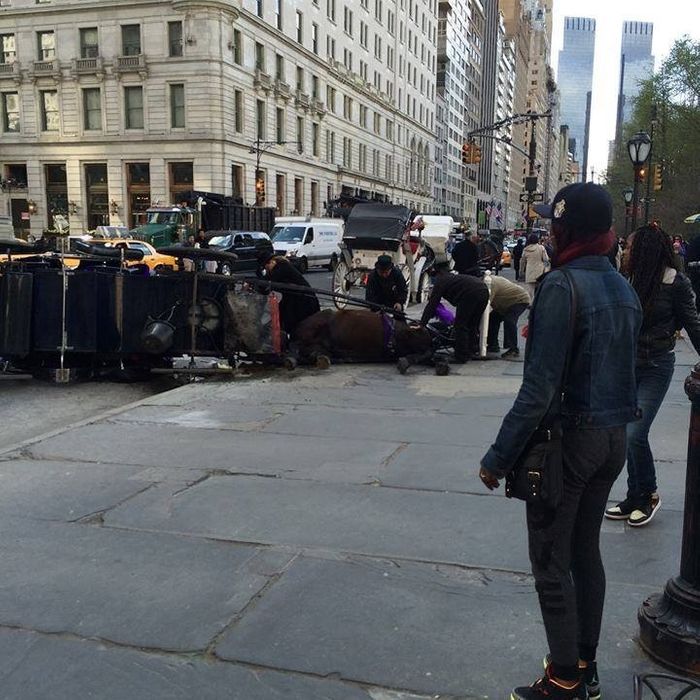 As humans across New York City continued to argue about whether Bill de Blasio should follow through on his promise to get rid of Central Park's horse-drawn carriages, one of the creatures in question freaked out and fell over across the street from the Plaza Hotel on Wednesday evening. According to the tourist who took the sad photo above, the horse became spooked by a turning bus: "The horse bucked and started to run when its carriage went off the curb and pinned the animal to the ground," she wrote in a letter to PETA. She also claimed that the driver put the horse back in its harness to work "even though he was clearly limping and hurt."
Of course there is video of some drivers trying to right the carriage as the horse lays on the ground:
Meanwhile, a spokesman for the Horse and Carriage Association of New York had a different story: According to NY1, "They said they saw the carriage's back wheel get caught on the wheel of another carriage, tipping it over and knocking the horse to the ground." They added that the horse "was driven home to his stable without injury."
Whatever happened, PETA and NYCLASS (the group between that old-timey horseless eCarriage) plans to protest at the site of the accident on Thursday afternoon. And that's not all! This morning, the New York Post reported that the city has been talking to its 68 horse-carriage owners about giving them taxi medallions (which can go for $1 million each) to compensate them for the elimination of their business, though second-generation driver Stephen Malone told the paper that the situation wasn't about money. "We're in the carriage business to stay in the carriage business," he said. But if that's not possible, the aforementioned deal wouldn't be a bad one for the owners, whose own licenses are only worth about $200,000.
Update: George Miranda, president of Teamsters Joint Council 16, told the New York Daily News that the Post's report isn't true. "The subject [of medallions] has not been raised between the industry and the [de Blasio] administration," he said.