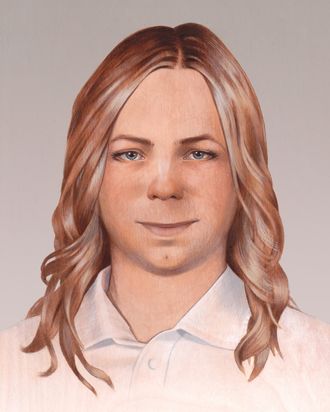 The convicted WikiLeaks source was granted a formal name-change from Bradley Edward Manning to Chelsea Elizabeth Manning by a judge in Leavenworth County, Kansas, where she is serving a 35-year prison sentence. The court hearing lasted about a minute, the AP reports, and Manning did not attend. But she posted a moving statement to her website, along with a portrait, seen here, captioned, "How Chelsea Manning sees herself."
"Today is an exciting day," Manning wrote. "I've been working for months for this change, and waiting for years."
It's worth noting that in both mail and in-person, I've often been asked, "Why are you changing your name?" The answer couldn't be simpler: because it's a far better, richer, and more honest reflection of who I am and always have been –a woman named Chelsea. […]

Unfortunately, the trans* community faces three major obstacles to living a normal life in America: identity documentation, gender segregated institutions, and access to healthcare. And I've only just jumped through the first one of these hurdles.
A spokesperson for the Army noted that the name change does not require the military to treat Manning as a woman or transfer her to a woman's facility. "Likewise, the U.S. Disciplinary Barracks is a male-only facility and prisoners there are referred to by the title 'inmate,'" he said.
"Hopefully today's name change, while so meaningful to me personally, can also raise awareness of the fact that we trans* people exist everywhere in America today, and that we have must jump through hurdles every day just for being who we are," said Manning.