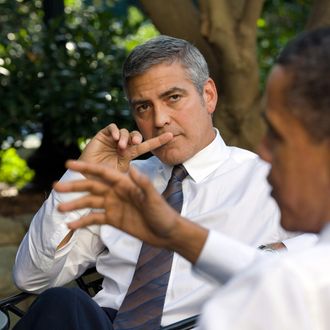 The look of true bro love.
Photo: Pete Souza/The White House
Hotel magnate Steve Wynn and professional handsome person George Clooney got into an argument at dinner recently over something the actor claims "had nothing to do with politics and everything to do with character." It also had to do with politics. "Steve likes to go on rants," Clooney told the Las Vegas Review-Journal in a statement. "He called the president an asshole … that is a fact … I said the President was my longtime friend and then he said 'your friend is an asshole.' … At that point I told Steve that HE was an asshole and I wasn't going to sit at his table while he was being such a jackass."
"And I walked out. There were obviously quite a few more adjectives and adverbs used by both of us. Those are all the facts." But Wynn says Clooney was wasted.
"He stood up and threw a hissy fit" at a guy who told a joke about the Soviet Union (Huh? Commies …), Wynn explained in his version of events. "Then he sat down and started talking about the Affordable Care Act, and that's when I spoke up. He didn't like that either. I think my discussion about the Affordable Care Act was the straw that broke the camel's back." The actor was in Las Vegas promoting his Casamigos tequila, eating at Botero inside Wynn's Encore hotel.
"When he's drinking," Wynn continued, "he considers himself a close personal buddy of the president." (Obama, for the record, has said of the bromance that Clooney is "very protective about not bothering me. And he's also sensitive to the fact that, you know, that if he's around a lot, then somehow it'll be tagged as 'Obama hanging out with Hollywood stars,' and that's not who he is. But he's a good person.")
"He got up and said, 'I don't have to listen to this (expletive) stuff. The only person who got excited at the table was George, and he ran off to another bar," said Wynn, keeping the barbs coming. (A pro-Clooney "Page Six" source adds that "Wynn's three goon-like bodyguards immediately loomed up behind [business partner Rande Gerbert] and George," but "before Wynn's bodyguards could touch them, George and Rande got up and walked out.")
"Clooney's fun to be with when he's sober," Wynn added. "If you have a chance to drink with him, you want to get there early, and don't stay late."
Rich and famous people: also embarrassing when they argue about politics at dinner!