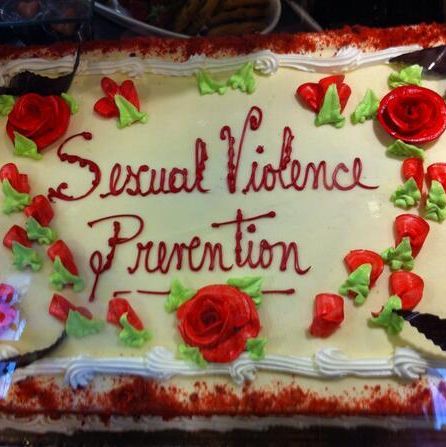 In a bizarre showing of solidarity, a Columbia University dining hall marked Sexual Assault Awareness Month and Denim Day NYC with a very ornate sheet cake. Unsurprisingly, no one ate it — the words "sexual violence" are not exactly appetizing — and it was promptly removed.
The dessert was first pointed out by Anna Bahr on Twitter. "It was untouched when I left," she wrote.
"Today, when many employees are wearing their Denim Day pins, some members of the Dining staff wanted to also show recognition of the initiative," Vicki Dunn, executive director of Columbia Dining, told Daily Intelligencer in a statement. "The cake was a well-meant, but inappropriate gesture by an employee in recognition of this important cause. The cake was removed almost immediately. We believe sexual violence is a serious issue not to be taken lightly in any form." Even, or especially, frosting.