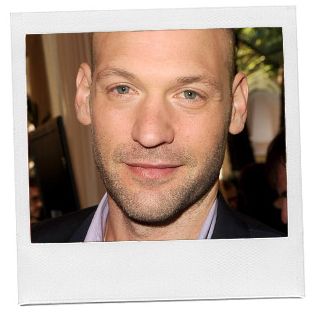 Name: Corey Stoll
Age: 38
Neighborhood: Park Slope
Occupation: Actor. His film Glass Chin, which also stars Billy Crudup, premieres this Saturday at the Tribeca Film Festival.

Who's your favorite New Yorker, living or dead, real or fictional?
Walt Whitman. His poem "Crossing Brooklyn Ferry" perfectly captures the constant tension between loneliness and belonging one feels in New York.
What's the best meal you've eaten in New York?
Well, I had all my family meals in New York, and they were the best. But the best meal in a restaurant was at Craft, out celebrating my first two films. My friend was the sous chef there, and he made me try sweetbreads. They weren't bad. Crispy.
In one sentence, what do you actually do all day in your job?
Worry about my next job.

What was your first job in New York?
After college, I was an intern at the New York Theater Workshop. In the mornings I would build sets and hang lights, and in the afternoon I would be the reader for auditions. Growing up, I used to babysit, but, thinking back on what I was like at 15, this was probably a terrible idea.

What's the last thing you saw on Broadway?
The last night of Twelfth Night. Mark Rylance came out and gave a moving speech, and all the actors came out and threw roses, even to the balcony. (I caught one.)

Do you give money to panhandlers?
Sometimes, not usually, but whatever I do I feel shitty about it.

What's your drink?
Belvedere martini, slightly dirty.

How often do you prepare your own meals?
When I'm not traveling, about 75 percent of the time. I just moved to a place with some outdoor space, so I'll be doing a lot of grilling, which I did when I was living in L.A. If I could grill for breakfast, I would.

What's your favorite medication?
Belvedere martini, slightly dirty.

What is the best thing in or about your apartment?
Well, we just moved from Williamsburg, and I've hardly spent any time there because I'm up in Toronto [shooting the upcoming Guillermo del Toro FX series The Strain], but I think it's going to be the outdoor space. We have a little patio.

What's the craziest thing you've ever seen on the subway?
It was when I was doing A View From the Bridge and was playing this incredible righteous, powerful man. I saw this one homeless man on the subway just beating the shit out of this other homeless man. And it was this sort of thing where everybody in the train car was a little stunned, and I think I was sort of in character, and I stood up, and with my most booming voice, commanded him to stop. And somehow it worked. Afterward I sort of woke up and realized how stupid that was.

When was the last time you stayed out past 3 a.m.?
Does that not include for work? Because I'm out past 3 a.m. like every Friday, doing my TV show.

Which do you prefer, the old Times Square or the new Times Square?
Neither, they both really suck, for different reasons. But there was a moment in transition when the theaters along 42nd Street had those sort of one-line poems on the marquees. That was a great moment. That was when Times Square was interesting.

What do you think of Mayor de Blasio?
I think he has a very ambitious and mostly admirable agenda, and I wish him the best of luck.

What do you hate most about living in New York?
People who don't have a stroller or a bicycle who leave through the emergency exit on subways. It's the worst.

If you could banish one person from New York forever, who would it be?
People who don't have a stroller or a bicycle who leave through the emergency exit on subways.

When's the last time you drove a car?
This week. I've got a rental up here in Toronto. My grandfather tried to teach me how to drive my senior year, but it just didn't work out (i.e., we both got very frustrated). But then when I was 20 my brother and I drove across the country, and he said he wouldn't do it unless I got licensed, so I did.

Finish this sentence: The NYPD _____.
Is an acronym for the New York Police Department.
Times, Post, or Daily News?
Times, online.

Where do you go to be alone?
Prospect Park.

What makes someone a New Yorker?
I think it's if you're spoiled by New York. You can go to other cities, and absolutely fall in love with them, but in the end, New York is home.