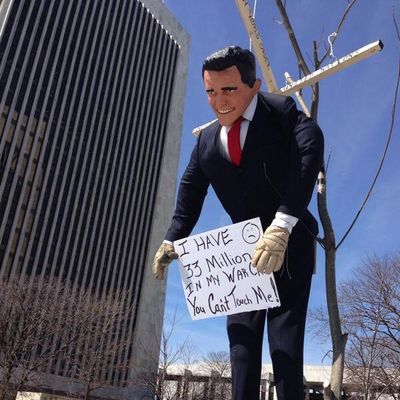 Yesterday, New York State Rifle and Pistol Association head Tom King explained that his NRA-affiliated group would not be participating in a Tuesday rally at the New York State Capitol calling for the repeal of the SAFE Act. (Passed in 2013 and championed by Governor Cuomo, the law restricted the sales of assault weapons and increased background checks on those looking to buy guns.) "There are a lot of not so savvy people who have sprung up who are saying things that are just inappropriate. I've never been a fan of rhetoric," he told CBS New York. And, to the New York Daily News: "I just don't want to be a party to anything that may happen." Now that photos of the event have started to appear on social media, we're starting to see what King was concerned about.
Here (as seen above) is an effigy (or "puppet") of Governor Cuomo with, as the Daily News' Bill Hammond explained, "the UN, New World Order etc. pulling his strings": 
Here is a shot of the crowd, which reportedly numbers in the "thousands":
Some creative signage:
And here is celebrity guest Donald Trump speaking about the importance of protecting the Second Amendment:
According to Albany's Daily Gazette, Republican State Senator Kathy Marchione and Republican State Assemblyman Steve McLaughlin also attended, as did Republican candidate for governor Rob Astorino.