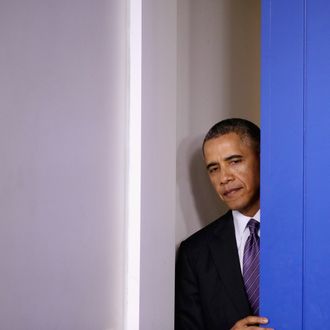 Photo: Chip Somodevilla/2014 Getty Images
On Thursday in Geneva, the United States, Russia, Ukraine, and the European Union reached an agreement to deescalate the situation in Ukraine, which Secretary of State John Kerry described as a first step in averting "a complete and total implosion" in the region. The deal calls for all sides to refrain from violent and provocative acts, for illegal groups to be disarmed, and for pro-Russian separatists to give up the buildings they seized in eastern Ukraine. Protesters who comply will be given amnesty, unless they're found guilty of capital crimes. Now the question is whether Russia will actually go along with the agreement, and President Obama sounded unconvinced. "My hope is that we actually do see follow-through over the next several days, but I don't think, given past performance, that we can count on that," he said at a White House press conference.
The joint statement did not address the estimated 40,000 Russian troops on Ukraine's eastern and southern borders, Russia's annexation of Crimea, or the May 25 election to choose a new Ukrainian president. Russia opposes the election, arguing that ousted President Viktor Yanukovych is still the legitimate leader. It's also unclear how militants occupying buildings in Ukraine will be persuaded to comply, since Russia claims it has no control over them.
Russian President Vladimir Putin has given no indication that he plans to back down. As diplomats were negotiating earlier on Thursday, Putin was taking questions from Edward Snowden and explaining that Russia has a historical claim to part of Ukraine in a four-hour TV appearance.
"We have to be prepared to potentially respond to what continue to be efforts of interference by the Russians in eastern and southern Ukraine," President Obama said. He threatened to impose new economic sanctions on Russia if they don't stand down, and reiterated that military intervention is off the table. "What we have to do is create an environment where the regular forces disarm, where the seizing of buildings cease, where a national dialogue of Ukrainians — not by others, but by Ukrainians, takes place," he said.