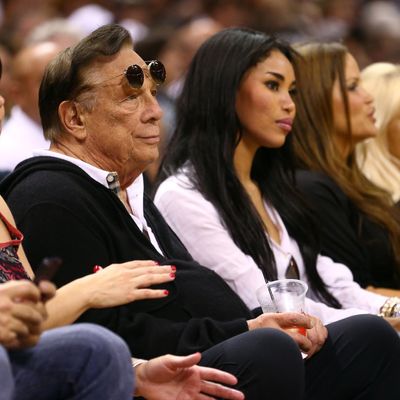 Photo: Ronald Martinez/Getty Images
Donald Sterling will not own the Los Angeles Clippers for much longer. His racist tirade against the presence of black men on his alleged girlfriend's Instagram earned Sterling a lifetime ban from the NBA and a $2.5 million fine, the maximum allowed under the league's rules, commissioner Adam Silver announced today. Silver will also push Sterling to sell the team. (League owners have the authority to force a sale pending a three-fourths vote.)
"The central findings of the investigation is that the man whose voice is heard on the recording … is Mr. Sterling," Silver said, "and that the hateful opinions voiced by that man are those of Mr. Sterling. The views expressed by Mr. Sterling are deeply offensive and harmful. That they came from an NBA owner only heightens the damage and my personal outrage."
"We stand together in condemning Mr. Sterling's views," Silver added. "They simply have no place in the NBA." Sterling's fine will be donated to anti-discrimination organizations.
The tapes, as first published by TMZ, were recorded in September, ESPN reports. The woman on the other end, V. Stiviano, confirmed the legitimacy of the recording and cooperated with the NBA, "as did a third person who was in the room when the tape was made."
Dallas Mavericks owner Mark Cuban, after expressing some reservations about the "slippery slope" of punishing Sterling, has already come out in favor of Silver's ruling:
"I have been in touch with the NBA and fully support Commissioner Silver's decision," said Knicks owner James Dolan in a statement. "I applaud Adam for acting quickly and decisively in appropriately addressing these disgusting and offensive comments. This kind of behavior has no place in basketball, or anywhere else, and we as a league must stand together in condemning this ignorance."
"The Nets organization welcomes and fully supports the decision and remains committed to tolerance and respect for all," the team said. "We can all be proud that the reaction throughout the NBA – from players, management, ownership and fans – has been unequivocal and united in condemning the scourge of racism."

Other league representatives are pleased as well, including Magic Johnson, the target of some of Sterling's racist ire. Professional Knicks fan Spike Lee was in the room for the announcement.
Sterling's long history of racial discrimination and animus did not factor into the NBA's decision, Silver said, stressing that it was a reaction to this incident alone. As a result of the ban, Sterling will be prevented from having any contact with his team. The ruling does not apply to members of Sterling's family.
This is what the official Clippers website looks like at the moment: