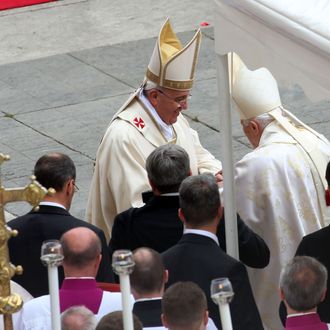 Photo: Franco Origlia/2014 Getty Images
Sunday's Vatican Mass wasn't just any old Mass: In addition to watching two deceased popes become saints, the 800,000 people who gathered in St. Peter's Square also got to see two living popes participate in a single ceremony. Neither of those things has ever happened before. Of course, before Pope Francis was in charge, a pontiff had probably never blessed a male stripper's parrot, either.
The popes being canonized were John Paul II (the guy you remember from the '80s, '90s, and early aughts) and John XXIII, who made his short reign (1958-1963) count by convening the Second Vatican Council, which liberalized the Catholic Church somewhat. As the current pope, Francis presided over the proceedings, which is typical. Less typical was the presence of his less popular predecessor, Pope Benedict XVI, who sat on the alter alongside the other cardinals. Benedict has been good about keeping his promise to stay "hidden form the world" after his retirement, but it seems that Francis managed to coax him out for some fresh air and positive attention. What a guy.