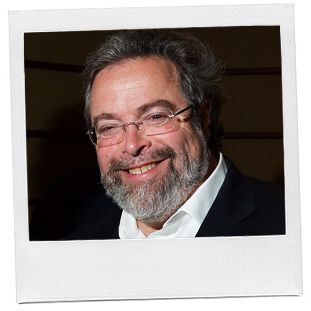 Name: Drew Nieporent
Age: 58
Neighborhood: Tribeca and Ridgewood, New Jersey
Occupation: Restaurateur (including Nobu, Tribeca Grill, and the upcoming Bâtard); board member of MSG's Garden of Dreams Foundation, designing the menu for its inaugural Prom next Tuesday, April 8.
Who's your favorite New Yorker, living or dead, real or fictional?
I guess I would say Mitchell Modell, because he's a very dear and loyal friend, and he's a bag of fun. I saw Patrick Stewart said Paul Simon, and I didn't want to be redundant, but I want to say Paul Simon as well.
What's the best meal you've eaten in New York?
I tend not to do anything singularly, like the "Ten Best Meals" or whatever. The best meal is usually the last good meal that I had. Recently I had a wonderful meal at a place called the Musket Room, and then almost every week we do what's called a "family meal" in the restaurants I own. At Tribeca Grill, one of the Dominican chefs makes a Dominican beef stew, and it's my favorite: spicy, with a lot of coriander, a lot of peppers.
In one sentence, what do you actually do all day in your job?
I make sure that everyone is doing their job and is accountable for what they are responsible for.
What was your first job in New York?
A Quarter-Pounder grill man at McDonald's. You know when the Quarter-Pounder came out? That was a big thing for McDonald's. Everyone was cross-trained to do several things, but I deemed myself the Quarter-Pounder grill man.
What's the last thing you saw on Broadway?
Pippin. It was fantastic. Just a wonderful show. My mother was an actress and then became a casting director, so I go to a lot of theater.
Do you give money to panhandlers?
It's on a case-by-case basis.
What's your drink?
Bloody Marys. Any time of day.
How often do you prepare your own meals?
I cook quite a bit, so I would tell you every day, just some kind of a thing. It could be ramen — you know, where I put in my own ingredients to supplement the package. But my specialty would be a chicken francese.
What's your favorite medication?
Ecoprin. It just sort of seems to heal all the wounds.
What is the best thing in or about your apartment?
The big windows let in a lot of light.
What's the craziest thing you've ever seen on the subway?
The craziest thing I guess is the musicians who actually can't play their instruments. There was a guy with a violin and he just sort of held it and when people would come over he would fake it.
When was the last time you stayed out past 3 a.m.?
Probably after the James Beard awards, when I won Outstanding Restaurateur a couple years ago. It's not a regular thing — I have to get home, to get up and get to work the next day.
Which do you prefer, the old Times Square or the new Times Square?
The old Times Square. That was the way to grow up in New York, you had to take in Times Square to understand how the other side lived.
What do you think of Mayor de Blasio?
I think Bloomberg is a hard act to follow, and we've got to give him a little space to see how he's gonna do. He got booed the other day at the Mets game! I think that was more because he's come out as a Boston Red Sox fan, though.
What do you hate most about living in New York?
Traffic.
If you could banish one person from New York forever, who would it be?
Glenn Beck.
When's the last time you drove a car?
1975. I have a State I.D., but I've never learned how to drive. When I was in high school, which was prior to '75, my father was going to take us to a Yankees game one day, but the car was stolen. Then when I went to college I did drive for maybe five minutes once — a friend of mine put me behind the wheel in a stupid moment. But that was the only time I've ever been behind the wheel of a car.
Finish this sentence: The NYPD _____.
I'm actually going tonight to the Police Foundation Dinner, so I better be careful. The NYPD perform gallantly given the enormity of their situation.
Times, Post, or Daily News?
All of the above.
Where do you go to be alone?
The roof of the New York Athletic Club. They have what they call a solarium, so on the roof you can lie out in the sun, or late at night you take a private elevator up there, and the views of Central Park are stunning.
What makes someone a New Yorker?
I think that's somebody who's born, bred, and never leaves.  In fact, when you asked me the first question, I might have said something like Robert F. Kennedy because he was our Senator … but he was a carpetbagger [Laughs]. I don't think you can ever come here and be a New Yorker.