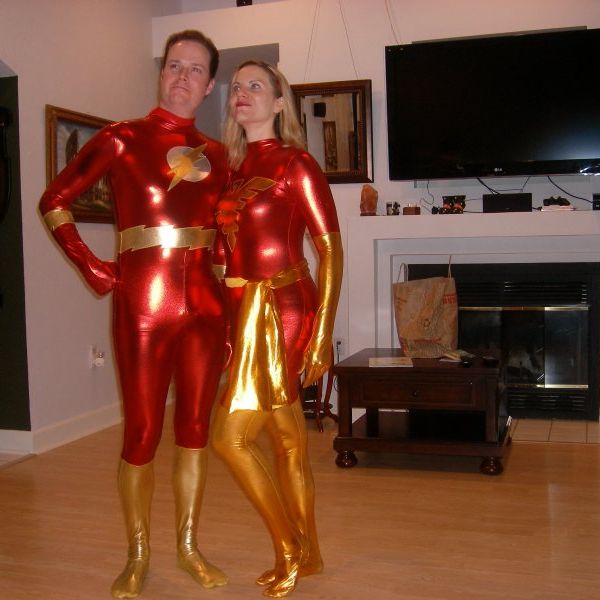 Jake Rush, left, in costume.
Photo: Jake Rush for Congress
Jake Rush, a 35-year-old attorney and former sheriff's deputy, is challenging tea partier Representative Ted Yoho in Florida's 3rd Congressional District. In his spare time, Rush wears a lot of costumes and goes by names like "Chazz Darling" and "Staas van der Winst." But it's totally not creepy, he insists, almost convincingly. Republicans in the south may choose to disagree.
What Rush calls his "hobby activities" were revealed by a local blogger, Peter Schorsch, who played up the "gothic-punk" live-action role player community (LARPers) and its darker aspects, including "Satanic symbolism," book burning, and vampires.
In response, Rush released a very long press release headlined, "Jake 'Shakespeare' Rush Shoots Straight on Gaming and Theatre Hobbies," including the above photo.
"As a straight shooter, yes, I play and have played video games, role playing games, board games, Yahtzee, Clue, and I have acted in dozens of theatre productions," says Rush. "Any cursory review of the Internet will show that I have played heroes and villains."
"As a practicing Christian, I am deeply offended that the opposing campaign and their supporters would take a gaming and theatre hobby and mischaracterize it," Rush continues. "The very definition of acting is expressing ideas and thoughts that are not your own, just like I don't believe I am MacBeth, which I have played, I am none of the characters."
That doesn't quite account for the message board posts and photos under Rush's name that refer to his "Rape Face" or his desire "to stick my dick in your mouth to shut you up while I snorted a line off my new machete." But then again, this is Florida. They've seen worse.