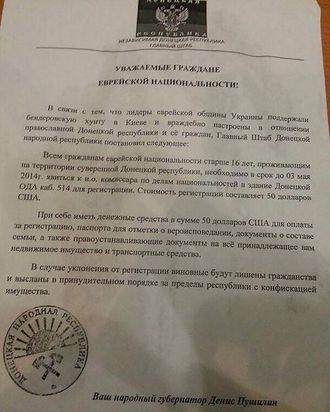 Much of the world, including the U.S. State Department, understandably reacted with horror today when Jewish residents of Donestk, Ukraine, reported being given flyers outside of a synagogue requiring them to "register" their citizenship and declare their property. According to reports first circulated by Israeli news site Ynet and USA Today, the pamphlets were delivered by masked men holding the Russian Federation flag and directed Jews to a government building currently occupied by pro-Russian forces.
But Denis Pushilin, the Russian separatist whose name is on the flyers, claims he has nothing to do with them, and that the documents were spread to make his side look bad.
"Evasion of registration will result in citizenship revoke and you will be forced outside the country with a confiscation of property," reads the flyer, according to a translation. It also lists a $50 fee for doing so.

"Some idiots yesterday were giving out these flyers in targeted areas," hoping "to blame the attack on separatists," said Pushilin. Nonetheless, the U.S. government condemned the flyers, which are indeed disgusting, whoever created them:
U.S. Ambassador to the Ukraine Geoffrey R. Pyatt called the flyers the "real deal" and said they were "chilling" in an interview with CNN.
"It's an obvious provocation designed to get this exact response, going all the way up to Kerry," said Fyodr Lukyanov, editor of Russia in Global Affairs, according to the New Republic. "I have no doubt that there is a sizable community of anti-Semites on both sides of the barricades, but for one of them to do something this stupid — this is done to compromise the pro-Russian groups in the east."
TNR's Russian-American reporter Julia Ioffe concludes, "the Jews of Donetsk and eastern Ukraine may have been asked by a leaflet to register, but it has not been enforced nor are any Ukrainian Jews registering themselves."
The National Conference Supporting Jews "has contacted the Donetsk Jewish community leaders, who called the flyers a provocation," it said in a statement. "They said that all authorities have denied any connection to the flyers, and that Pushilin has denied authorship."
The ADL is also suspicious:
Still, cautioned a local rabbi to the Daily Beast, "Last time Donetsk saw similar messages was in 1941, when the Nazi German army occupied Donetsk. It is so painful for us to see that some cynical politicians dare to use us as an instrument in their political games."