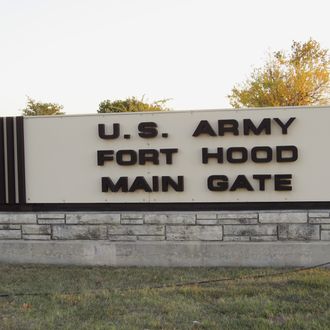 Photo: Alan Henkel/NBC Wire
Army officials have confirmed a shooting at the Fort Hood military base in Killeen, Texas, where 13 people were killed and more than 30 injured in an attack at the hands of Major Nidal Hasan in 2009. A scrolling banner on the official Fort Hood website Wednesday evening ordered those present to "shelter in place," and added, "This is not a test."
Details are still scarce, but according to Texas Congressman Michael McCaul, Chairman of House Homeland Security Committee, three people, plus the shooter, are dead, and another 14 injured. McCaul said authorities have identified the suspect as Ivan Lopez. Then gunman was reportedly wearing an Army uniform, but it's unclear if he was on active duty.

In a statement at 5:33 p.m. CDT, the Fort Hood press center said, "There has been a shooting at Fort Hood and injuries are reported. Emergency crews are on the scene. No further details are know at this time."
In an update about an hour later, the press office added, "Fort Hood's Directorate of Emergency Services has an initial report that a shooter is dead but this is unconfirmed." ABC, NBC, and CNN all reported that the gunman has died.
"Hearing those gun shots gave me chills," tweeted an infantryman claiming to be at the base. "Dear god. This is fucking crazy."
Although no link has been established, Fox News reported yesterday that the FBI was "searching for a recent Army recruit believed to be planning a 'Fort Hood-inspired jihad against U.S. soldiers.'"
"On 20 March 2014, the Kansas City Division FBI became aware of an individual named BOOKER aka Muhammad Abdullah Hassan who had publicly stated his intention to commit jihad, bidding farewell to his friends and making comments indicating his jihad was imminent. BOOKER had been recruited by the US Army in Kansas City, Mo., in February 2014 and was scheduled to report for Basic Training on 7 April 2014. Kansas City Division Agents interviewed BOOKER on 20 March 2014."
In Chicago, President Obama said the situation is "fluid," but he and his national security team are following it closely. He continued:
This post has been updated throughout.