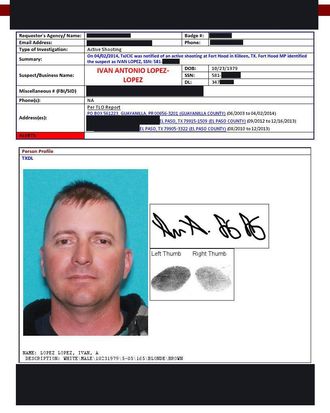 Army Specialist Ivan Lopez, 34, has been identified as the gunman who killed three people and injured 16 others before killing himself yesterday at Fort Hood in Texas. NBC News obtained a photo of Lopez, along with a police report, and quotes officials who said that while the soldier was being evaluated for PTSD, he had no record of combat in Iraq, where he spent a four-month deployment as a truck driver in 2011.
"They stressed that it did not mean Lopez was not suffering serious psychological problems — only that they did not appear combat-related, as is often associated with soldiers suffering from PTSD," NBC reports.
Lopez was reportedly being treated for depression and anxiety, and prescribed Ambien for his problems with sleeping. He had "self-reported" a brain injury. Army Secretary John McHugh said Lopez saw a psychiatrist last month but was not found to have violent or suicidal tendencies.
Family members said Lopez's mother died in Puerto Rico in November, and the family is now "destroyed." A woman thought to be his wife told reporters this morning, "I'm sorry. I don't feel well. I've been talking to police all night."