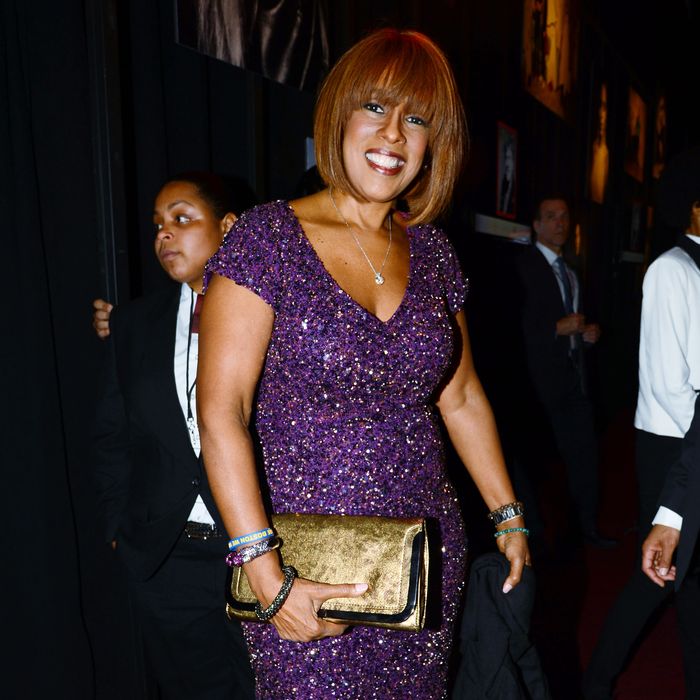 Donald Sterling's lifetime ban from the NBA had gone into effect just hours before last night's Time 100 dinner, but the "influentials" in attendance were already moving on from shock at Sterling's statements to praise for league commissioner Adam Silver's swift and decisive ouster of the racist owner.
CBS anchor Gayle King said she's been "obsessed" with the story. When the tapes first came out, she said, "Well, it was painful, it was hurtful, and it was very surprising that an owner, involved in a sport where it's predominantly minority, would speak in such a way. Someone told me he took the word 'owner' very seriously."
Forget about Sterling, though. "I think Adam Silver, to have faced the test that he faced, I think if you look up leadership in the dictionary, you will see his picture," said King. "To me it was sort of like a Beyoncé moment: Drop the microphone. 'Any questions?'"
(Uzo Aduba, a.k.a. Crazy Eyes from Orange Is the New Black, meanwhile, had another idea: Follow up Silver's Queen Bey mike drop by selling the team to Beyoncé herself. "She's done amazing things this year, and I think she could do that as well," she joked. Though we think Jay-Z might have some conflicting loyalties and legalities.)
King said she's happy anyone else will be owning the Clippers, but she has her favorites. "Well, I wouldn't be mad if it was Magic Johnson," she said. She also "wouldn't be mad" if David Geffen and his group of investors, which could include King's bestie, Oprah Winfrey, took over. "That would be great!" said King.
Later in the night, after a Carrie Underwood performance, I tried to approach the mogul in the room with a potentially different perspective, having worked through controversial ownership issues and troublesome women in his life. So when Rupert Murdoch got up from his seat, I stopped him for a moment. He listened politely. Here's our conversation.
New York: Excuse me Mr. Murdoch. I'm from New York Magazine. Can I ask you about the news of the day, Donald Sterling?
Rupert Murdoch: No.
And with that he walked away and was out the door. Fair enough.
Additional reporting by Jennifer Vineyard.