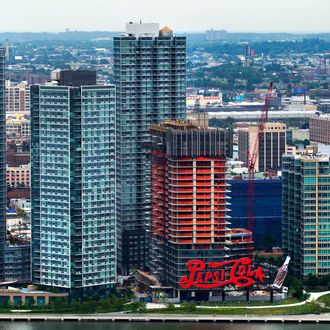 Photo: Jin Lee/Bloomberg via Getty Images
Hello, Queens: Your moment has arrived. For years, Brooklyn has been the ascendant borough in the wake of Manhattan's increasing luxuriousness. But now that it, too, has seen its prices go into the mid-six figures — the average price for the first quarter of this year rose 7.3 percent from last year to $681,182, according to Douglas Elliman market reports released today — and inventory sank to the lowest level in six years (4,092 units on the market, from 4,712 in 2013), buyers are heading Queensward.
"Queens is benefiting directly from Brooklyn's success," says Jonathan Miller of the appraisal firm Miller Samuel, who crunched the data for Elliman. The number of sales in that borough spiked a record-setting 32.8 percent, to 3,156.
Having witnessed what a deluge of new buyers means for a borough, we know what's next: increasingly higher prices, too. The average sales price did, in fact, rise 10.3 percent, to $429,544; and the median price by 5.7 percent, to $370,000. While those numbers pale in comparison to Manhattan's and even Brooklyn's, they're not exactly cheap, either.
Elliman vice-president and director of sales Yuval Greenblatt says most of the deals this past quarter were for houses. The median sales price for a one- to three-family is now $525,000. If that's beyond your budget, consider co-ops, which Greenblatt says buyers sometimes overlook, despite the borough having a decent number of them. The median sales price for a co-op is now $199,000. (Manhattan's hasn't seen those numbers since the 1990s.) But hurry up: In the first three months of 2013, the median was $178,000 — 11.8 percent cheaper than this quarter's. And the number of transactions rose 51.9 percent, to 1,118 transactions.
For buyers, Greenblatt and Miller both suggest checking out neighborhoods in Queens near Brooklyn's popular haunts if you're looking for future growth: Ridgewood, Maspeth, Long Island City, even Woodside (though it's further in). "You're seeing spillover across the lines and adjacent areas are likely to benefit moving forward," says Miller. A trending Queens doesn't look to be anomalous, either. "If you think Brooklyn is here to stay in terms of the success and the changes it has undergone in terms of the public's perception of the borough," he says, "then Queens is right there, too."