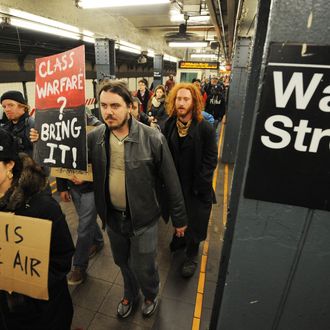 Photo: STAN HONDA/2011 AFP
Twenty-five-year-old Cecily McMillan is set to go on trial soon for her alleged assault of NYPD officer Grantley Bovell as he arrested Occupy Wall Street activists at Zucotti Park in March of 2012. Prosecutors say McMillan purposely elbowed Bovell in the face, while McMillan maintains that she was reacting to someone grabbing her breast. She faces up to seven years in prison if convicted of the felony charge against her. However, a Guardian reporter who sat in on jury selection writes that finding people who say they can give McMillan a fair trial is proving difficult for the same reason that the Occupy movement turned out to be such a polarizing issue in New York: Wall Street is here. 
According to the Guardian, defense lawyers had expected jury selection to be completed in one day. Instead, they reached the end of the second day of the process with only 7 out of 12 seats filled. "I'm involved in Wall Street things. I'm on the Wall Street side, not their side. They can protest all they want, but they can't brainwash my mind," said prospective George Yih, who was dismissed for obvious reasons. "I have really strong feelings about Occupy Wall Street and the people involved," said another reject, former bond-fund employee Mary Malone. Here are a couple other people who didn't make the cut: 
"For 20 years, my occupation has been, in some fashion, on Wall Street," said Jason McLean, who said he was an equity trader living in Murray Hill with his wife, who was also an equity trader. "Everything I believe – my morals – are kind of the antithesis of what they represent." He concluded: "I don't know that I could be completely objective."

"I like to think of myself as fair," Alan Moore, who said his wife worked on Wall Street as a bond strategist for Credit Suisse, told the judge. "But in terms of Occupy Wall Street in general, I would give less credibility to that group than average." Even to a witness in court? "Yeah," said Moore. "They seem to be people moving a little outside regular social norms and regular behaviour. Therefore I don't give them the same level of respect as people who follow the line."
Meanwhile, the prosecution nixed several potential jurors who expressed distrust of the police. "A surprising number of people are actually willing to say that they can't be fair," said one of McMillan's lawyers, Rebecca Heinegg. It's probably less surprising to the majority of people who get called for jury duty.