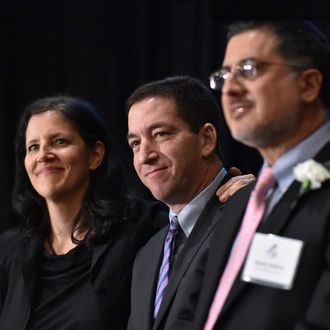 Poitras and Greenwald accept their Polk award.
Photo: Stan Honda/AFP/Getty Images
If America's spy agencies were monitoring the ballroom of the Roosevelt Hotel today — and who's to say they weren't? — they certainly got an earful. The occasion, the annual George Polk Awards in Journalism, drew an impressive collection of intelligence world scourges. There was New York Times reporter James Risen, who is fighting an order to testify against a former CIA officer who allegedly was a source. There was Barton Gellman, who was being honored for publishing some of Edward Snowden's leaks in the Washington Post. There was Alan Rusbridger, editor of the Guardian, whose paper was instrumental in bringing the surveillance story to light in the face of threats from the British government. But the really high-value targets were running late.
For the first time in nearly a year, Polk winners Glenn Greenwald and Laura Poitras were returning to the United States, a step they previously had avoided taking for fear of arrest, subpoena, or other legal repercussions. "Their flight landed, they cleared customs," John Darnton, curator of the award selection process, reassured the audience to loud applause. "The only problem is clearing the scrum of reporters on the sidewalk."
The Polks are one of the most prestigious prizes in journalism, established in the name of a perished foreign correspondent to reward intrepid investigative reporting, but they are not used to partaking in the nerd-insurgency culture that surrounds the Snowden case. (Snowden himself was profiled in Vanity Fair this week.) Though Greenwald had previously hinted that he might return to accept the award in person — in a speech he made by Skype for this year's South by Southwest conference, he suggested that the occasion would provide "really good symbolism" in the event he was handcuffed at the airport — the actual announcement came only yesterday.
Though it was hard to be sure how seriously to take the threat — Gellman has been doing his work while living and working in Washington — organizers from Long Island University, which sponsors the Polks, weren't sure their star guests would actually attend until just minutes before the ceremony. When word circulated that Greenwald was near, more than a dozen cameramen and reporters staked out a bank of elevators like paparazzi, paying relatively little heed when an actual celebrity, actor John Cusack, passed by on his way into the ceremony, dressed in a black trench coat and combat boots.
Greenwald circumvented the scrum, breezing through a side entrance down the hallway leading to the ballroom, forcing the cameras to dash after him in pursuit. The NSA's antagonist wore acid-washed jeans and a blue blazer, a black backpack tossed casually over one shoulder. The cameras stampeded past the rest of Greenwald's party — which included the comparatively reticent Poitras and his partner David Miranda — and massed around Greenwald in a backwards-moving pincer formation. Someone shoved a microphone in his face and asked him how things went at the airport. "It was very smooth," Greenwald said, adding that he only returned because he was convinced the authorities would not "do something counterproductive."
Shortly after the Snowden story broke, Greenwald left the Guardian to join Poitras and others at First Look Media, a new organization funded by the tech billionaire Pierre Omidyar. He has accused "establishment" organizations like the Times — while writing in the Times — of sitting on explosive national security stories and serving a "set of elite and powerful factions."
Within the ballroom, the two sides of this media war held a polite truce. As Greenwald entered, a group of Times Metro reporters were accepting an award. Greenwald took a seat at a round banquet table, perhaps 30 feet from Times publisher Arthur Sulzberger. Other guests at the table included Greenwald's agent, Dan Conaway, and editor Riva Hocherman of Metropolitan Books, which will soon publish No Place to Hide, his account of the Snowden story. They ate catered chicken and made whispered small talk as Denis Hamill gave a salty speech on behalf of his ailing brother, the tabloid columnist Pete Hamill, and a local TV reporter from Tampa accepted an award for exposing a scheme to boost traffic ticket revenues by shaving time off the duration of yellow lights.
The award for the NSA leaks closed the show. Greenwald took the stage along with Poitras, Gellman, and Ewen MacAskill of the Guardian. Poitras said she was "thankful to the Polk community for giving me a really good excuse to come home," but said it was "also quite disorienting." She expressed concern that the specter of prosecution might still hang over herself — and definitely imperils Snowden, living in Russian exile, to whom she dedicated the award. "None of us would be here," Poitras said, "without the fact that someone decided to sacrifice his life to make this information available."
Greenwald was more openly confrontational, thanking his fellow honorees as "the people that James Clapper calls my accomplices." He decried what he described as a government campaign of repression against journalists and their sources. "There are ways to intimidate journalists. You can imprison them en masse but there are other ways to do it," he said, accusing the government of stoking a "climate of fear." The Snowden story, he claimed, had exposed this. "The debate we were about to trigger," he said, "was not just one about surveillance, but one about the proper role of journalism and the relationship between the media and government and other factions that wield great power."
Afterward, the Snowden journalists held a hastily arranged press conference, where John Cusack watched from behind a bank of cameras, smoking an electronic cigarette. (He's on the board of the Freedom of the Press Foundation, along with Snowden, Greenwald, and Poitras.) The journalists were asked about German investigations into NSA spying (deemed encouraging) and Heartbleed (no comment), and Greenwald was once again called upon to say how long he expected to continue publishing Snowden material on his Omidyar-financed website, The Intercept. (He said he really hopes to be finished soon.)
First and foremost, though, the press wanted to know how personally threatened the journalists felt. "It's easy, I guess, to say it doesn't seem likely to happen but when those threats are being directed at you, you take them seriously," Greenwald said.
So, how long are they planning to stay?
"Since we didn't know what today held, we haven't been doing a lot of long-term thinking, because we had no idea of what the outcome would be of our deplaning," Greenwald said. But he added that he hoped their presence would make a statement. "It was a commitment not just to come back for this one time, but to come back whenever we want, which is our prerogative as American citizens."
Not to mention, Greenwald added, there are practical considerations. "For me, I have a book coming out next month."