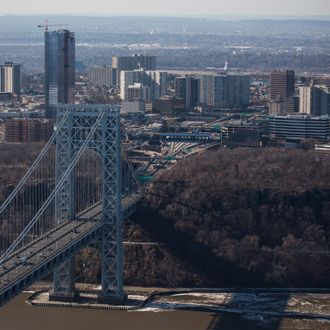 Photo: Andrew Burton/2014 Getty Images
The sad story of the man and woman who on Monday committed suicide together by jumping off the George Washington Bridge has gotten a bit more complicated: Authorities say they have been identified as 41-year-old Gary Crockett and 40-year-old Nicki Hunt-Cirel­li, and that the two are believed to have killed Hunt-Cirel­li's uncle in Suffern, New York, before ending their own lives.
A business partner found the 70-old-uncle, William Valenti, dead in his home on Monday afternoon, the New York Daily News reports. It appears that he was choked to death. There was also a note from Crockett and Hunt-Cirel­li "[apologizing] for their actions." According to WABC, "Police believe the uncle discovered that the pair had stolen money from another relative and had threatened to turn them in." (Other reports say that Valenti and the couple were involved in an "ongoing dispute" over "money they had taken from his bank account without his permission.") Neighbors who spoke to the Daily News said that Valenti had allowed his niece and her boyfriend, who each had "numerous run-ins with the law," to stay at his apartment rent-free.
Before the body was discovered, investigators in New York were having trouble figuring out who Crockett and Hunt-Cirel­li were: After witnesses saw them leap from the bridge while holding hands, the pair was pulled alive from the Hudson River alive, only to die a short while later at St. Luke's-Roosevelt Hospital. They were carrying no identification, though Crockett did have the key to the Valenti's Chevy Malibu, which he and Hunt-Cirel­li apparently used to get out of Suffern after the murder. The two also stole Valenti's AR-15 assault rifle.
Investigators made the connection between the murder in Rockland County and the New York double-suicide on Tuesday, and another relative was called to identify Crockett and Hunt-Cirel­li's bodies. "I always thought there was something wrong with [the couple]," a woman who lived in the uncle's building told the New York Post, adding that they had "a bad energy about them."
This post has been updated throughout.