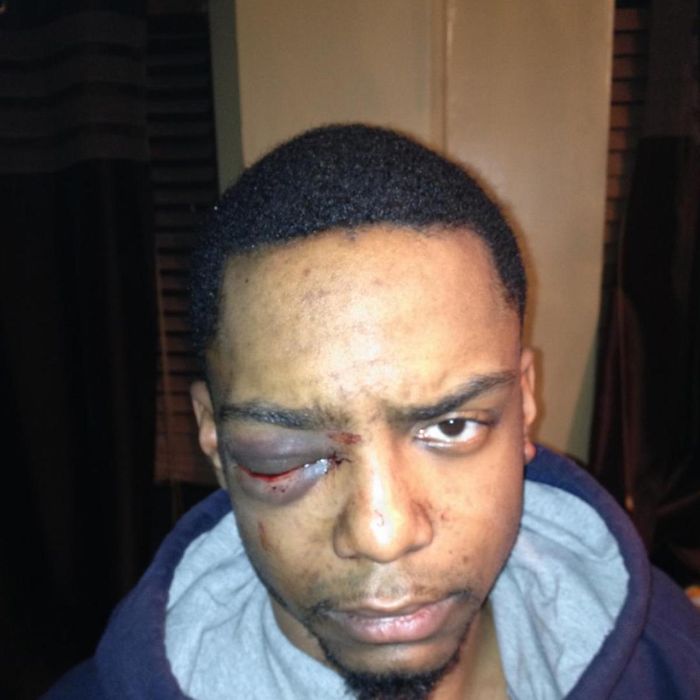 Taj Patterson after the attack.
The NYPD has arrested five Hasidic men in connection with the beating of a gay black man in Williamsburg last December. The attack, which was initially investigated as a hate crime, took place on Flushing Avenue at around 5 a.m., when 23-year-old Taj Patterson was walking around after a night out. Patterson says he found himself surrounded by over a dozen men, some of whom were members of the Shomrim, a neighborhood patrol made up of Hasidic volunteers. The group claims to have been investigating reports that Patterson was seen vandalizing cars, which turned out to be untrue. But, when Patterson tried to get away from them, they restrained, kicked, and punched him while shouting anti-gay slurs, including "stay down, f—-t."
The assault ended once the attackers noticed that witnesses, including a bus driver who pulled over to help Patterson, were taking photos. He ended up at Woodhull with a broken eye socket, a torn retina, blood clotting, and an array of minor injuries. The suspects — 19-year-old Pinchas Braver, 29-year-old Abraham Winkler, 28-year-old Aharon Hollender, 25-year-old Joseph Fried, and 21-year-old Mayer Herskovic — have been indicted on gang assault charges. They face up to 25 years in prison if convicted. According to WABC, the NYPD Hate Crimes Task Force tracked some of them down in Israel, where they had fled after the attack.