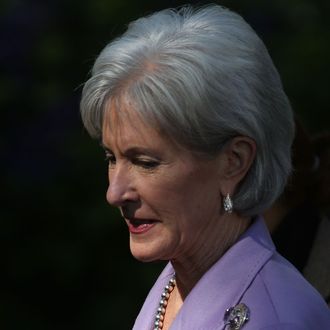 Photo: Mark Wilson/Getty Images
Kathleen Sebelius, who has been President Obama's secretary of Health and Human Services since 2009, has resigned, the New York Times reports. Though White House Chief of Staff Denis McDonough said that she was not forced out, her departure isn't a huge surprise: Sebelius oversaw the very buggy rollout of healthcare.gov, and the Times says that Obama has "been under pressure for months to fire her." (The paper also notes that Sebelius didn't stand next to the president at the recent Rose Garden press conference where he announced that Obamacare sign-ups had exceeded the administration's goal of 7 million.) Sebelius said on Thursday that she always knew she wouldn't "be here to turn out the lights in 2017," adding, "My balance has always been, when do you make that decision?"
McDonough says that Sebelius approached Obama to discuss her future last month, and suggested that it would be better for the administration to have someone who isn't such a big political target helming HHS. "What was clear is that she thought that it was time to transition the leadership to somebody else," he explained. "She's made clear in other comments publicly that she recognizes that she takes a lot of the incoming. She does hope — all of us hope — that we can get beyond the partisan sniping."
The Republican response suggests that's still wishful thinking. While some in the GOP lamented that Sebelius should have been fired months ago, most focused on blasting Obamacare again, rather than attacking her personally. "No matter who is in charge of H.H.S., Obamacare will continue to be a disaster," said Reince Priebus, the chairman of the Republican National Committee. House Majority Leader Eric Cantor offered this backhanded compliment:
Officials said that on Friday morning, Obama will nominate Sylvia Mathews Burwell, the director of the Office of Management and Budget, to replace Sebelius. Burwell, a 48-year-old former Rhodes scholar, held several positions in the White House and Treasury during the Clinton administration, and went on to serve as the president of the Walmart Foundation and head of the global development program at the Bill and Melinda Gates Foundation. Since joining the Obama administration last year, she's been deeply involved in implementing health policy, and has been praised for her strong organizational skills and ability to navigate government bureaucracy. "The president wants to make sure we have a proven manager and relentless implementer in the job over there, which is why he is going to nominate Sylvia," said McDonough.
Selecting Burwell, who was unanimously confirmed for her Office of Management and Budget post, may also help the administration avoid a lengthy confirmation battle. In a sign that the new head of HHS may face slightly less partisan ire – until she's confirmed, at least – on Thursday evening, Senator John McCain called her an "excellent choice" to lead the department.
This post has been updated throughout.