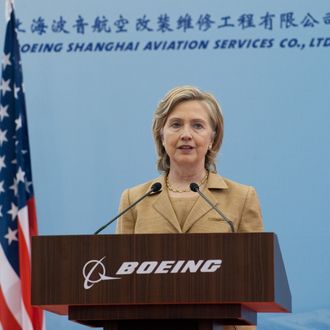 At least she's not holding a "reset" button.
Photo: SAUL LOEB/2010 AFP
Here's another item to add to that dense flowchart of the Clintons' potentially sleazy business dealings. The Washington Post reports that throughout her time as secretary of State, Hillary Clinton "functioned as a powerful ally for Boeing's business interests at home and abroad," while the company "invested resources in causes beneficial to Clinton's public and political image." Both sides insist that there is nothing inappropriate about their relationship, but at the very least, Clinton probably regrets the way she phrased her push to have Russia's new state-owned airline, Rosavia, strike a deal with Boeing back in October 2009. "This is a shameless pitch for Rosavia … to buy Boeing aircraft," Clinton said while touring a Boeing factory in Moscow.
A month after Clinton made that plug, the company helped out the State Department, donating $2 million when plans for a U.S. pavilion at the upcoming World's Fair in Shanghai nearly fell apart. Initially, the State Department ruled out soliciting donations from Boeing and several other large companies to avoid the appearance of impropriety, but then it was decided that capping its donation at $1 million would be sufficient. It's unclear who decided to raise the cap.
Boeing continued to have a close relationship with the Clintons. In 2010, the company won a $3.7 billion deal with the Russian airline, and two months later it donated $900,000 to the William J. Clinton Foundation to rebuild schools after the earthquake in Haiti. Just this month, Tim Keating, a former Bill Clinton aide and current lobbyist for Boeing, co-hosted a Ready for Hillary fundraiser.
Boeing sees its work with the government to encourage exports and job creation as a "mutual institutional interest, versus a personal one," according to spokesman Sean McCormack. Similarly, Clinton spokesman Nick Merrill said advocating for an American company to secure the Russian jet deal is "the job that every secretary of State is supposed to do and what the American people expect of them — especially during difficult economic times."
As for Boeing sponsoring the U.S. pavilion, along with many other companies, Merrill said Clinton only worked with the company to ensure the success of the event, not to make an ally that could help her presidential campaign years down the line. "Suggesting otherwise would be like saying that encouraging Pizza Hut's sponsorship was done in an effort to get free pizza," he said. On the other hand, campaign workers do eat a lot of pizza …