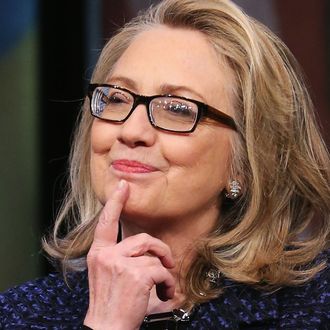 U.S. Secretary of State Hillary Clinton answers questions from people from around the world during a "Global Townterview" at the Newseum January 29, 2013 in Washington, DC. Clinton took questions from youths from around the world via satellite and social media including Twitter, Facebook and Skype in advance of her last day at the State Department Friday.
Photo: Chip Somodevilla/Getty Images
A so far unnamed woman has been taken into custody for throwing a shoe at Clinton right after she took the stage for a paid speech at the Institute of Scrap Recycling Industries get-together in Las Vegas. The Associated Press reports that Clinton, who avoided getting hit, joked about the incident afterward. Unfortunately, unlike the time this happened to George W. Bush, there doesn't appear to be any video.