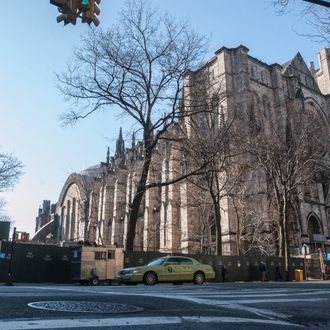 The Cathedral Church of St. John the Divine, the immense yet somehow retiring neo-Gothic behemoth in Morningside Heights, is about to give new meaning to the term self-effacement. Perpetually unfinished, rich in land but poor in cash, the great church has invited a developer to slap a pair of 14-story rental buildings against its uptown flank. It sounds like a groaner: How do you hide a cathedral? The 428 apartments, designed by Handel Architects, will make a giant landmark fade into the Amsterdam Avenue streetscape — just another flamboyant façade on a busy block.
In New York, even the most majestic churches can't dominate the skyline for long. Trinity Church, whose spire was once a sailors' beacon, now crouches amid the skyscrapers of Wall Street, and St. Patrick's Cathedral is practically a dwarf in midtown. At street level, however, both those churches — and just about all the world's great cathedrals — have the elbow room to assert their sanctity: a graveyard, a plaza, a perimeter of streets. St. John the Divine has a lovely garden on one side, but on the other, it will soon have neighbors peeping through the stained glass.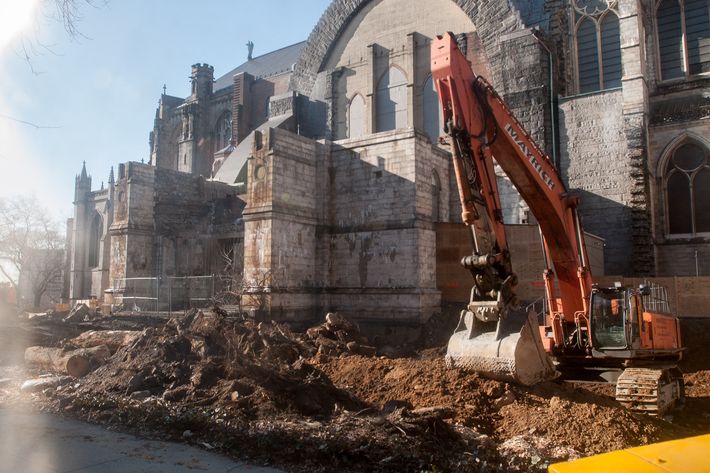 Here we have a classic real-estate situation being handled with the usual narrow-bore clumsiness. Neighbors and preservationists growl, the church stonewalls, and because the developer's not asking for any zoning concessions, the city declines to get involved. Meanwhile, crews rip out trees and level the site, making way for more mediocre architecture.  There's a better way: negotiate. What matters most to the cathedral's majesty is its presence on the street, not the height of its still-nonexistent central tower. So if Mayor de Blasio moves fast, before construction has actually begun, he can still broker a compromise:
Push the new apartment complex well back from Amsterdam Avenue, leaving the cathedral's corner

 

inviolate.
In exchange, allow a taller, more slender tower at the back of the

 

site.
Increase the number of affordable

 

apartments.
Immediately landmark the cathedral and its remaining

 

grounds. 
Such a plan for one tall mid-block tower instead of two stumpy ones on the avenue would then have to wend its way through the public review process, which would delay the project. But in the end, the cathedral would get its payout and Brodsky would acquire real-estate gold: perpetually unobstructed views. Meanwhile, the city would get a chance to demand that the architects (different architects, ideally) produce a design worthy of its site close to the peak of Morningside Heights and next door to one of the New York's finest monuments.