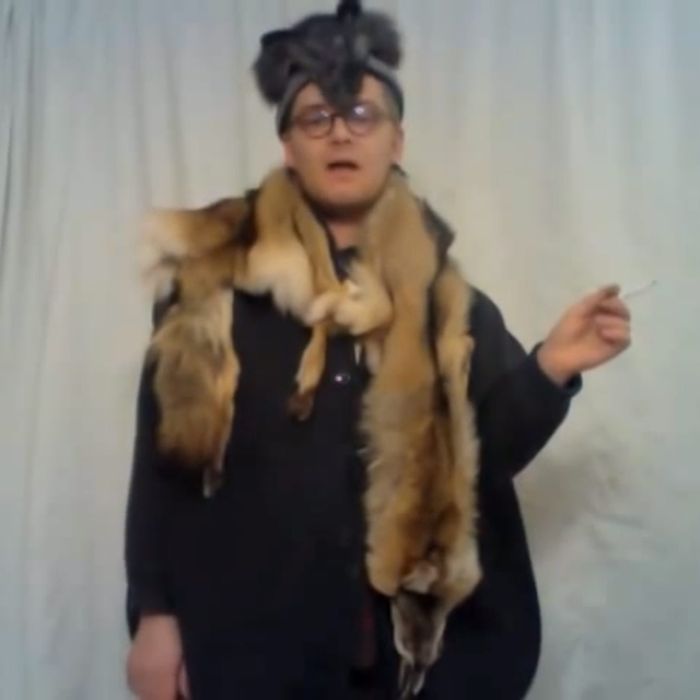 Kayvon Edson, alleged artist.
The man who thought it would be funny or subversive to drop a backpack near the finish line of the Boston Marathon on the one-year anniversary of the bombing while yelling "Boston Strong!" has been identified as 25-year-old Kayvon Edson. Barefoot and bounding creepily, like Heath Ledger's the Joker, down Boylston Street in a black floppy hat, Edson reportedly told police his bag contained a rice cooker, which was later detonated by a bomb squad and reportedly filled with confetti. He's been charged with disorderly conduct, disturbing the peace, and possession of a hoax device.
Edson, who has a colorful online presence that includes absurdist tributes to Dzhokhar Tsarnaev, seems to believe this is art.
"I'm a fashion designer, an entrepreneur, a performance artist, a mental patient, a blogger bloggerist, a jailbird, a college dropout, and a drag queen," says Edson in an eponymous video posted on YouTube. "Boston, yeaaaah, dude," he bellows in character as a bro. He also says he was diagnosed as bipolar.
On Facebook, Edson changed his cover photo yesterday to a photo of Tsarnaev, made into a meme. His political views are listed as: "Politicians Are Poorly Dressed Celebrities That Govern."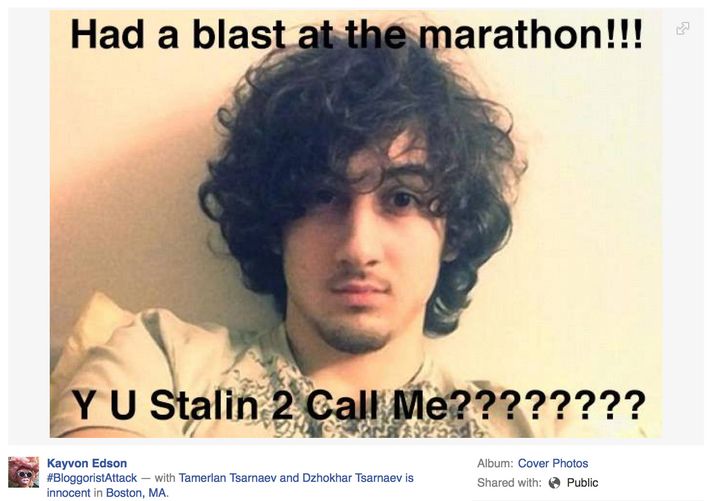 His blog, Natural Selection, was updated on Tuesday as well, with a post called "#SexyBomber." Edson seems to think this is all very funny. "Boy-o-boy, I'd pressure cook him a meal n' bring him homo to Mama," he writes. "Heart of gold! I'd run 26.2 miles fur you! Happy Anniversary, babe! Next time, I'll cry a river for our love boat."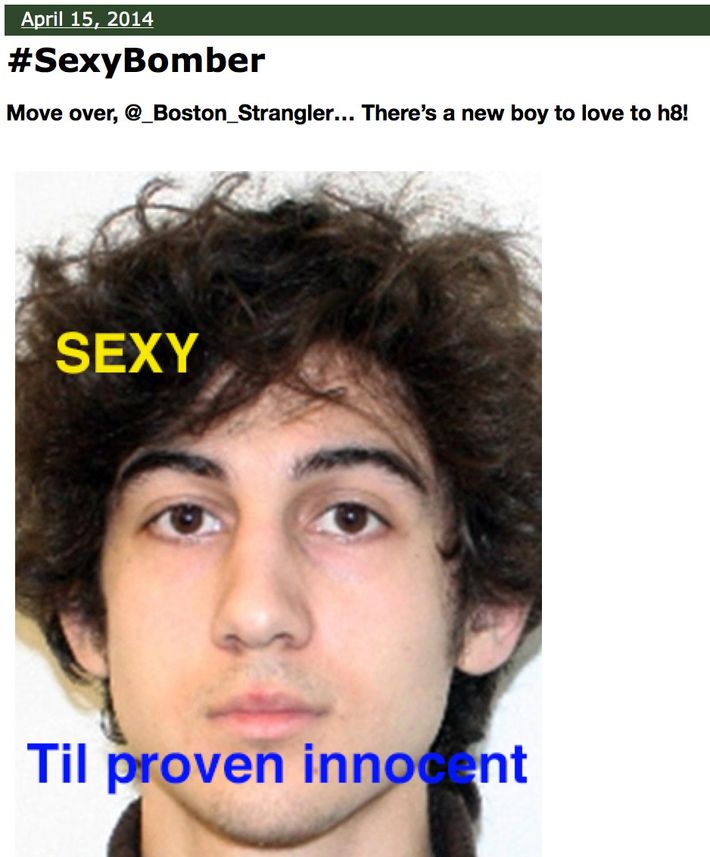 Here he is with a shrine to Justin Bieber:
"Kayvon is a total Avantgardster and a Fashion Dinosaur. He makes mad f@$h10n and will tell 'ya straight- even though he's a total fag," reads his Twitter bio.
Congratulations, Kayvon. You're finally famous.