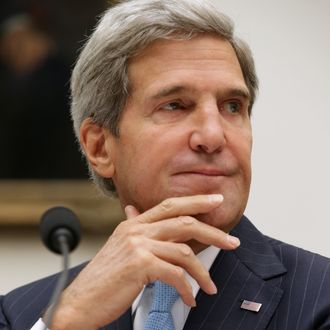 Photo: Chip Somodevilla/2013 Getty Images
Following a report that John Kerry said Israel is at risk of becoming an "apartheid state" during a private meeting on Friday, the secretary of State has faced criticism from many prominent Jewish groups and lawmakers across the political spectrum. Anti-Defamation League national director Abe Foxman said the comment is "startling and deeply disappointing," and Democratic Senator Barbara Boxer called her former colleague's remark "nonsensical and ridiculous." Unsurprisingly, rather than heeding Senator Ted Cruz's call for him to resign, Kerry backtracked on Monday, while firmly defending his decades-long support for Israel. "I will not allow my commitment to Israel to be questioned by anyone, particularly for partisan, political purposes, so I want to be crystal clear about what I believe and what I don't believe," Kerry said in a statement.
Kerry's use of the term during his remarks to the Trilateral Commission on Friday was first reported by The Daily Beast's Josh Rogin on Sunday. While explaining "how imperative it is to get to the two-state solution," Kerry said, "A two-state solution will be clearly underscored as the only real alternative. Because a unitary state winds up either being an apartheid state with second-class citizens — or it ends up being a state that destroys the capacity of Israel to be a Jewish state."
Those invited to attend the annual meeting agree not to discuss the speakers' remarks, but it appears Rogin crashed the event. Politico has obtained an apology letter addressed to Kerry from Trilateral Commission chairman Joseph S. Nye. "He was not invited," Nye wrote. "Although how Mr. Rogin slipped past both Commission staff and Diplomatic Security is unclear to me, we have confirmed that he indeed was present and apparently recorded the session." Rogin responded, "I don't comment on my sourcing. I didn't break any rules or agreements in the reporting of this article."
Regardless of the source, the report prompted Kerry to lay out his credentials when it comes to the Middle East peace process:
For more than thirty years in the United States Senate, I didn't just speak words in support of Israel, I walked the walk when it came time to vote and when it came time to fight. As Secretary of State, I have spent countless hours working with Prime Minister Netanyahu and Justice Minister Livni because I believe in the kind of future that Israel not only wants, but Israel deserves. I want to see a two state solution that results in a secure Jewish state and a prosperous Palestinian state, and I've actually worked for it.
Kerry went on to say he regrets using the term, but he didn't explicitly apologize.
First, Israel is a vibrant democracy and I do not believe, nor have I ever stated, publicly or privately, that Israel is an apartheid state or that it intends to become one. Anyone who knows anything about me knows that without a shred of doubt.

Second, I have been around long enough to also know the power of words to create a misimpression, even when unintentional, and if I could rewind the tape, I would have chosen a different word to describe my firm belief that the only way in the long term to have a Jewish state and two nations and two peoples living side by side in peace and security is through a two state solution. In the long term, a unitary, binational state cannot be the democratic Jewish state that Israel deserves or the prosperous state with full rights that the Palestinian people deserve. That's what I said, and it's also what Prime Minister Netanyahu has said. 
As Rogin noted, many leaders have used the term and former President Jimmy Carter even called his 2007 book Palestine: Peace or Apartheid. However, experts tend to agree that the comparison to racist policies formerly used in South Africa is offensive and historically inaccurate. Kerry concluded, "While Justice Minister Livni, former Prime Ministers Barak and Ohlmert have all invoked the specter of apartheid to underscore the dangers of a unitary state for the future, it is a word best left out of the debate here at home."