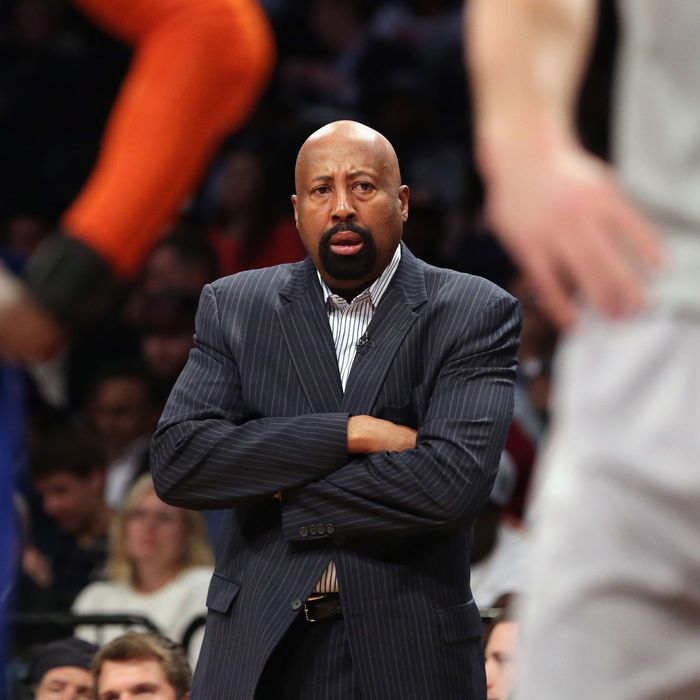 Mike Woodson.
Photo: Bruce Bennett/Getty Images
Mike Woodson's dismissal as Knicks head coach had been widely expected since the Knicks' disappointing 37-45 season ended last week. Woodson wasn't involved in players' exit interviews last week, and as if to add one final bit of silly drama to his tenure in New York, reports last week focused on the "standoff" between Woodson and Phil Jackson, neither of whom seemed to have much interest in meeting face-to-face to discuss Woodson's future. In fact, talk had already shifted to who would replace Woodson even before he was formally fired: One report said that Steve Kerr "absolutely" expects to be offered the Knicks' coaching job, and that he'd take it if the offer is made. And so today the Knicks made it official: Woodson — and his entire coaching staff — have been relieved of their duties.
Woodson, originally hired as a defense-minded coach after years of fast-paced Mike D'Antoni offenses, finishes his Knicks coaching career with a regular-season record of 109-79 — the third-best winning percentage in franchise history, if you can believe it. (Recall that the Knicks finished the Lin-sane 2011-12 season strong after Woodson took over, and won 54 games and a division title last year.) But this year's been the kind of disaster that's prompted multiple low-light videos, set to song.
Woodson may not have kept his job even if the Knicks hadn't hired Phil Jackson late in the season. But he had little hope once Jackson was brought in to turn around the franchise. Jackson surely doesn't care about Woodson's connection to CAA, and as he begins his first off-season in charge of basketball operations, he can now hire his own coaching staff. Woodson's firing was inevitable. The hard work for Jackson begins now.