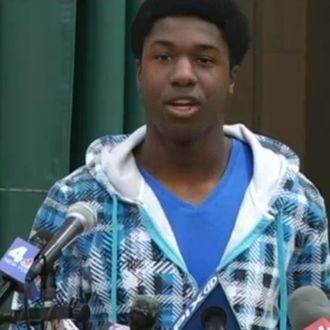 Kwasi Enin, the LeBron James of students, is taking his talents to New Haven. The 17-year-old, son of immigrant nurses from Ghana, announced at a somewhat surreal press conference that he was passing on Brown, Columbia, Cornell, Dartmouth, Harvard, Princeton, and the University of Pennsylvania, among other less prestigious institutions, for his first choice all along. He became a media celeb earlier this month when it turned out he'd been accepted to all eight Ivies.

"I narrowed it down and picked," said the teenager simply, in a bright blue hoodie, following speeches from two school administrators and a teacher this afternoon. Visiting the Yale campus last week, he said, was awesome.

Although he hopes to eventually attend medical school, Enin said the school's appreciation of music — plus a financial aid package — influenced his pick. ("The self-guided journey known as music in my life excites my mind every day," he wrote in his lovably earnest, overwritten admissions essay.)

Enin gave a pretty big hint on Twitter about his choice:
But was wowed by Penn as well:
If he learned anything from LeBron, though, it's that some resentment may be waiting for him come the start of freshman year. Then he'll probably win over and over again anyway.