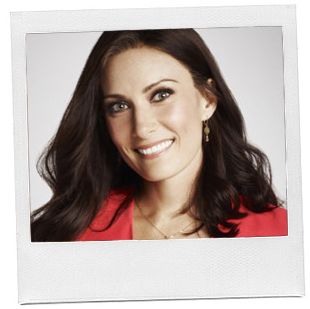 Name: Laura Benanti
Age: 34
Neighborhood: Upper West Side
Occupation: Actress. You can catch her guest-starring on The Good Wife this Sunday, April 27 and appearing on Nurse Jackie this season. Her debut solo CD, In Constant Search of the Right Kind of Attention, is available now.

Who's your favorite New Yorker, living or dead, real or fictional?
Stephen Sondheim. He is the reason I fell in love with musicals. His music feels like the most honest expression of my soul.


What's the best meal you've eaten in New York?
Patsy's. The pizza crust is amazing and the cheese-to-sauce ratio perfection.

In one sentence, what do you actually do all day in your job?
I pretend to be other people.

What was your first job in New York?
The Sound of Music on Broadway (I know, I know, I'm a real dick). I was 18 years old and understudied Maria (Rebecca Luker) in the 1997 revival. When she left, I took over the role opposite Richard Chamberlain.

What's the last thing you saw on Broadway?
Aladdin. I thought it was absolutely joyful.

Do you give money to panhandlers?
Sometimes, but usually I give food.

What's your drink?
Vodka martini with a twist, very cold, no vermouth, olives on the side. (My mom taught me this trick. Olives on the side leaves more room for booze.)

How often do you prepare your own meals?
I (almost) always make my own breakfast, but that's about it.

What's your favorite medication?
What the hell kind of a question is this? What's wrong with you people?!

What is the best thing in or about your apartment?
I have a chandelier in my bedroom like a damn princess.

What's the craziest thing you've ever seen on the subway?
I overheard a woman threatening to kick another woman in the neck. When I started laughing, they both threatened to kick me in the neck. Then we all started laughing.

When was the last time you stayed out past 3 a.m.?
I can't even remember. I bet I had fun though.

Which do you prefer, the old Times Square or the new Times Square?
I miss the "in between" Times Square where you weren't terrified of being murdered but also weren't getting dry-humped by a dude in an Elmo costume.

What do you think of Mayor de Blasio?
*Googles de Blasio to see what he's doing so that I seem smart and up to date* Okay, I'm back. There has been a 21 percent dip in murders, so I think he's great.

What do you hate most about living in New York?
Riding the subway.

If you could banish one person from New York forever, who would it be?
I can't answer that question honestly.

When's the last time you drove a car?
Last month. I was in Los Angeles cheating on NYC.

Finish this sentence: The NYPD _____.
… Are the police? What are you guys looking for here, some N.W.A. sh*t? YOU WILL NOT TRAP ME, NYMAG!

Times, Post, or Daily News?
Times.

Where do you go to be alone?
My apartment. Where else can you be alone in NYC?

What makes someone a New Yorker?
It's a feeling. And an attitude. And also living in NYC. That helps.