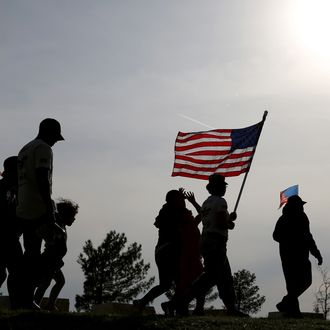 People participate in a flag walk in memory of those killed on April 4, 2014 in Killeen, Texas.
Photo: Joe Raedle/2014 Getty Images
On Monday, Army officials confirmed that the shooting at Fort Hood last Wednesday started with a request for leave, and released a detailed timeline of the attack. Chris Gray, spokesman for U.S. Army Criminal Investigation Command, said alleged shooter Specialist Ivan Lopez was "involved in a verbal altercation concerning his request for leave, and the processing of that request at his unit's administrative office." Gray did not elaborate on Lopez's request, and said investigators "have not confirmed a definitive motive." All they know is that minutes after the argument, Lopez returned to the office, "brandished a .45 caliber, semi-automatic handgun and fired multiple rounds, killing one soldier and wounding 10 additional soldiers."
Sergeant Jonathan Westbrook told TV station WJTV that Lopez was "irate" when he left the meeting. "He came back and fired shots," said Westbrook, who was hit four times. "The next thing going through my head was my family: my wife, my children, my mom, my dad. Make sure that I can get safe so I can stay alive for them, and that's what I did. And through the grace of God, I came out of there alive."
After opening fire in the administrative office, Lopez got into his car and drove away slowly. He fired at two soldiers walking past, wounding one. Next he stopped at the motor pool building where he worked and killed a soldier from his unit. He walked to the vehicle bay and shot two more soldiers, then got back into his car. 
He headed to the First Medical Brigade headquarters, wounding a passenger in another car and a soldier walking outside the building. Inside, he shot two people, killing a soldier at the main entrance desk. "We do not know why he entered that building, and we may never know why," Grey said.
Finally, Lopez drove to a parking lot where he encountered a military police officer. She fired one round but missed, and Lopez turned his weapon on himself. Ultimately, 35 shots were fired just eight minutes, leaving four people dead and 16 wounded. A memorial service will be held on Wednesday for the three slain soldiers, and President Obama is scheduled to attend.