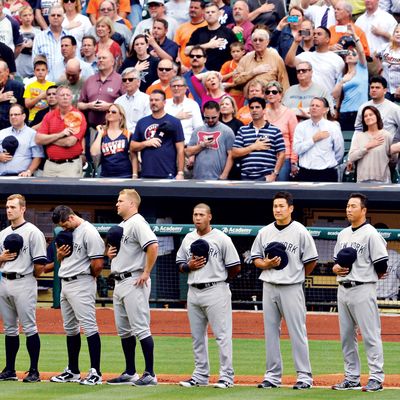 Since 1996, the first year of their new, modern Jeter-era dynasty, the Yankees have only missed the playoffs twice. This would be something to be proud of if it were anyone but the Yankees. But missing the playoffs here, even once, is unacceptable. Each time, there would be hell to pay in the off-season. A lot to pay.
Teams handle disappointment in a myriad of ways. Some fire the manager. Some trade away clubhouse malcontents. Some move out of Canada. In both 2008 and 2013, the Yankees did what the Yankees do better than any franchise in sports history: They spent (the baseball equivalent of stress eating). In 2008, they went on the open market and bought the three best players they could find, and Mark Teixeira, CC Sabathia, and A. J. Burnett helped the team win a World Series the very next year. So this off-season they tried it again, bringing in four free agents: catcher Brian McCann, outfielder Carlos Beltran, center-fielder Jacoby Ellsbury, and Japanese pitching import Masahiro Tanaka. For a total of $438 million.
But baseball has changed dramatically since the Yankees gave Teixeira that albatross of a $180 million contract they already clearly regret. Free agency is no longer where powerhouses flex their muscles; it's where desperate owners send good money after bad, often bankrupting their rosters in the process. See, most top players don't reach free agency the way they did even five years ago, thanks in large part to revenue sharing and television deals that the Yankees helped pioneer, which give most teams enough financial power to lock up their own talented youth. (Those long-term contracts are the main reasons the Yankees had lesser players to spend their money on this year than they did in 2008.) The ideal way to construct a roster is to have as many inexpensive young players under team control as possible and then supplement them with targeted mid-tier free-agent signings. (The two teams that have been the best at this just happen to be the ones who met in the World Series last year: the Red Sox and Cardinals.) With McCann, Beltran, Ellsbury, and especially Tanaka, the Yankees think they're fixing the problems of last year. But in trying to replenish their talent with aging and expensive free agents, they're living much further in the past than that. With the retirement of Jeter at the end of this season, the Core Four era will officially come to an end. The Yankees are doing an excellent job of making sure there won't be another one coming for a long time.
Owner Hal Steinbrenner first floated the number $189 million in March 2012. The Yankees would have to get their payroll under that figure to avoid an escalating series of crushing luxury-tax bills, freeing the team to sign new contracts without having to send an additional 50 percent each time to the league office (which taxes teams more heavily the more consecutive years they exceed the salary cap). "If you do well on the player-development side and you have a good farm system, you don't need a $220 million payroll," Steinbrenner said. "You don't. You can field every bit as good a team with young talent."
For two years, the Yankees acted as if they were serious. They waved good-bye to free agents of their own and didn't chase available players like Zack Greinke or Josh Hamilton. The problem was that the Yankees didn't have young talent and didn't have a good farm system. So they didn't win. But heading into 2014, they did seem poised to finally get under that $189 million threshold. It was a tough stretch, but for once the Yankees bit the bullet, sacrificing current indulgence for long-term sustainability.
And then they blew the whole thing up, with Steinbrenner acting this off-season with an impatience that would do his father proud (this is where we remind you that the Core Four era happened because George was "suspended" by MLB at the exact time he would have traded one of those four away for Rob Deer or somebody). The Tanaka signing—seven years, $155 million, for a pitcher who had never appeared in the major leagues and is generally thought to be inferior to fellow Japanese import Yu Darvish—eliminated all doubt: The Yankees would never get under the $189 million number, and will now be paying millions in taxes every season through 2017. It's not Tanaka's fault: Even if he's good, he won't be worth everything the Yankees gave up for him. His contract is the next albatross on a team full of them.
And the team still isn't going to be improved enough this year. Yankees brass seem to think that since last year's team won 85 games, all the additions should easily push them over the 90-win mark. But that's crazy thinking. The loss of Robinson Cano alone offsets two, maybe three of the additions. And that 85-win mark is inflated: The team finished six games above its run-differential projection in 2013 and was likely, true-talent-wise, a 79-win team. That's a much bigger hill to climb than they think.
Viewed from a certain angle, the Tanaka signing was the only one this off-season that made sense: In addition to the ways in which rich teams are restricted by the luxury tax and the shrinking free-agent market, MLB now has a cap on how much teams can spend on draft picks. An international signing like Tanaka is the only real place teams like the Yankees can still spend their cash wisely. Unfortunately, international free agents aren't the only players they're spending it on. The Yankees' plan seems to be to continue to believe it's 2008, or 1978, and try to make it so, going forward, through science or magic.
Of course, this is New York, and spending more than everyone else in the country is part of the brand at this point. Which is why it's amazing that the team that's set up the most nicely for the future might be, actually, those Mets. Yes, the LOLMets.
Think of the Bernie Madoff mess as that cone you put around a dog's neck so it doesn't bite itself. The Mets haven't been able to go out and overpay for players the past few years, and while that's meant miserable seasons for Mets fans, well, at least they've been cheap miserable seasons. GM Sandy Alderson—who clearly had expected to be able to spend by now—has had to keep himself focusing on the one thing the Yankees couldn't: the future.
It's beginning to pay off. The Mets now have one of the best farm systems in baseball, and should have one of the best rotations in two or three years. When Matt Harvey returns at full strength in 2015, he'll be joined by Zack Wheeler, Noah Syndergaard, and Rafael Montero, making the Mets the envy of every team in the league. (Young pitching remains the most valuable commodity: It's cheap, it's dominant, and it's all upside.) They also have hitters coming up through the system, some arriving this year (catcher ­Travis d'Arnaud, infielder Wilmer Flores) and some high-ceiling studs a few years away (slugger Dominic Smith, shortstop Amed Rosario, outfielder Brandon Nimmo). The Yankees can only dream of such impending bounty.
The Mets have resisted appeasing angry fans with big-name free-agent signings—either by choice or by force—and while that has led to short-term grumbling, they'll reap the rewards soon. By the time the Mets' young talent is starting to blossom, they—theoretically; these are the ­Wilpons—should have money to fill in the holes around them. They won't have to overcome luxury taxes like the Yankees to pay them; they won't have to cut or bench underachieving multimillionaire veterans to do so either. The Mets, if by accident, are set up splendidly.
Anyone who has moved to New York City in the past 20 years has often been baffled by old-timers' insistence that there was, really, a time in the city's sports history that the Mets were the big-ticket item in town and the Yankees were the afterthought. But history's cycle is irrefutable: Time is a flat circle, as they say. Make fun of the Mets all you want. Cheer the Yankees' insatiable desire to own the back pages if you will. But if you want one team to bet on being more likely to run this town over the back half of this decade, the one less likely to panic about its problems and thus make them worse … I can't believe I'm saying this, but I'd bet on the Mets.
*This article appears in the April 7, 2014 issue of New York Magazine.