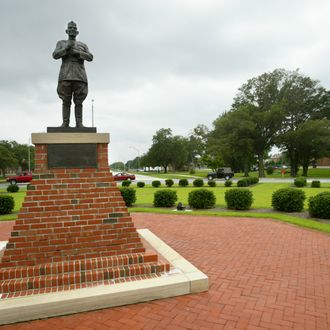 A statue of namesake Lt. Gen. John Archer Lejeune at Camp Lejeune.
Photo: Chris Hondros/Getty Images
A U.S. Marine guard was killed at Camp Lejeune in North Carolina on Tuesday when another Marine on guard duty "discharged an M4 rifle," according to a statement released by the base. The incident occurred around 5:30 p.m. in a guard shack at the main base. NBC News reports that the Marine died of a single gunshot wound to the chest, and the alleged shooter is in custody. It's unclear if the shooting was intentional, but the statement said it is "being considered neither as an act of terrorism nor an active shooter event at this time." The shooting comes less than a week after the rampage at Fort Hood that left four people dead and 16 wounded.