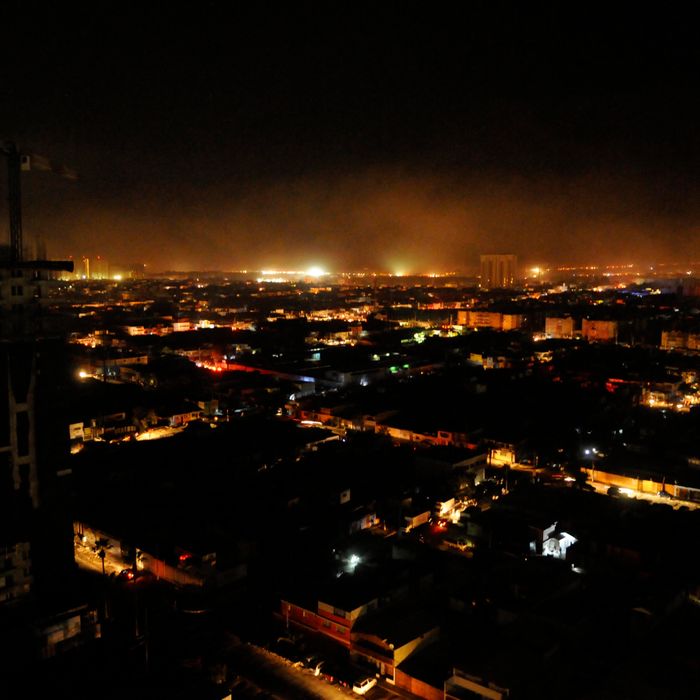 A view of Iquique, Chile, after an earthquake struck on April 1, 2014.
Photo: Cristian Viveros
A magnitude-8.2 earthquake hit off the coast of Chile Tuesday night, killing five people and forcing widespread evacuations along the country's coast. The quake struck at 9 p.m. local time about 60 miles off the coast of the mining port of Iquique. Officials said four men and one woman died from falling debris or heart attacks, according to Businessweek. Areas of northern Chile experienced blackouts, fires, landslides that blocked roads, and traffic jams as people tried to get to higher ground. Tsunami warnings were issued for the entire Pacific coast from Mexico through Central and South America, and within 45 minutes, waves as big as seven feet were pounding the shore near Iquique.
The government said it plans to maintain the evacuation order until at least 5:30 a.m., meaning hundreds of thousands of people won't be able to return to their homes tonight. President Michelle Bachelet declared the area a disaster zone, promising to send in troops and police reinforcements.
Chile has seen far worse in recent years. In 2010, a magnitude-8.8 quake and tsunami in central Chile killed more than 500 people and destroyed 220,000 homes, according to the Associated Press. Chile was also the site of the strongest earthquake ever recorded, a magnitude-9.5 quake in 1960 that killed more than 5,000 people.
The evacuations on Tuesday night were fairly orderly, thanks to several drills since the 2010 quake. Also, in recent weeks, scientists had warned that a large earthquake may be on its way after a magnitude-6.7 quake hit on March 16, followed by hundreds of smaller tremors. "It's been a very efficient evacuation," said Carlos Silva, the mayor of Huara. "We were ready for this."
This post has been updated throughout.