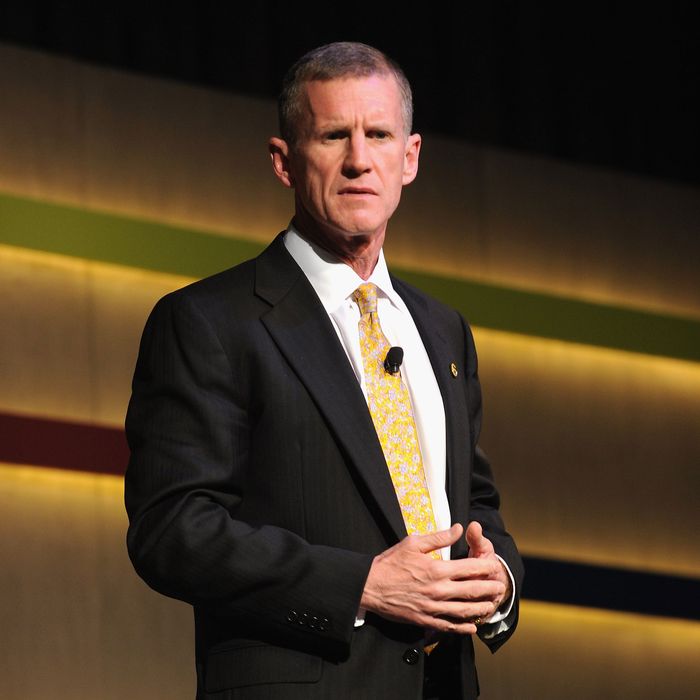 Photo: Craig Barritt/Getty Images
Back in 2010, General Stanley McChrystal's career was going alright. He was in charge of the war in Afghanistan, which wasn't exactly the United States' most successful war, but it was a pretty decent position for a guy who'd spent his entire professional life in the Army. Then, McChrystal said some not-so-nice things about President Obama, Vice-President Biden, John Kerry, and a bunch of other important people to Rolling Stone reporter Michael Hastings, and found himself out of a job. These things happen! Sometimes, (with a few key differences) these things even happen to people who aren't commanding tens of thousands of troops halfway around the world, which is why McChrystal decided to write about what he learned from his experience for LinkedIn's "Career Curveballs" series.
First, he does an admirable job of sticking to the baseball metaphor. After briefly describing the circumstances of his firing by Obama, McChrystal recalled:
Most importantly, my very identity as a soldier came to an abrupt end. I'd been soldiering as long as I'd been shaving. Suddenly I'd been told I could no longer soldier, and it felt as though no one really cared if I ever shaved again. I'd caught a curveball directly on the chin; I wanted to find a corner of the dugout, away from TV cameras, to rub my head and maybe sniffle a bit.
But that doesn't mean that he was going to allow himself to "feel like a victim." "Many would have supported, even welcomed me in the victim role; pundits would have let me rant, and a tell-all would have been an instant bestseller," McChrystal wrote, ignoring the fact that his tell-some memoir did become a best-seller.
So, it was just a matter of figuring out how to transfer his particular skill set to another field. "What am I?" he asked himself. "And what do I want to be next?" This is probably a good time to note that, unlike most people forced to give up their jobs in disgrace, McChrystal still had a $12,475-per-month pension and a lot of invaluable connections:
I was familiar with weapons, tactics, and war. But years on the battlefield had taught me that soldiering is really about people … My business, and my life, has been people. Like leaders in many walks of life, my business has been to serve with, and for, others. By focusing on this simple truth, and allowing it to guide my decisions through a difficult time, this curveball ultimately opened as many doors as it closed.
And that, folks, is how McChrystal turned his historic screw-up into a teaching gig at Yale, a spot on the board of directors of both JetBlue and trunk and engine manufacturer Navistar International, and a consulting group, among other side hustles. For further proof of how easy it is to pull this sort of thing off, we recommend that LinkedIn's next column be written by McChrystal's successor in Afghanistan, General David Petraeus, whose own career curveball put him on a similar trajectory. What's your excuse, unemployed professionals?