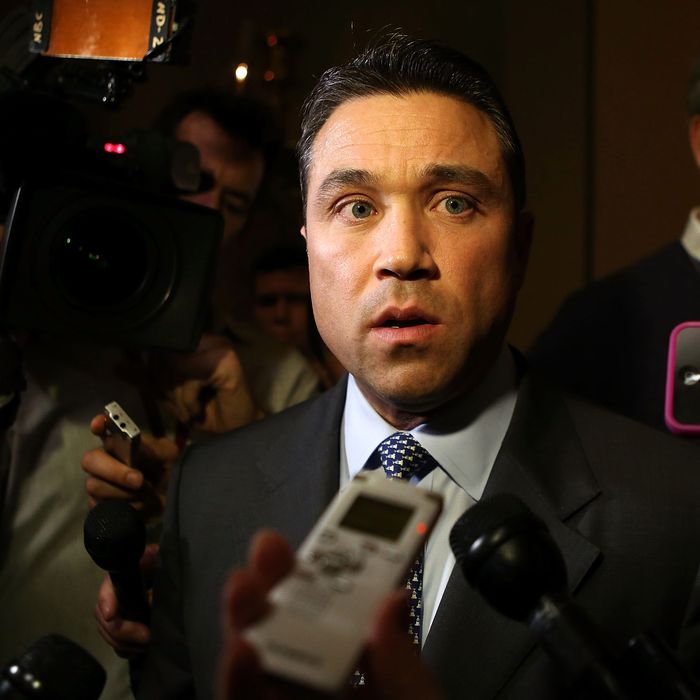 A Grimm in the headlights.
Photo: Alex Wong/Getty Images
The local congressman best known for his list of scandals, including most recently threatening to "break [a reporter] in half" — "like a boy" — will face federal charges, Politico and the New York Times report.
"After more than two years of investigation plagued by malicious leaks, violations of grand jury secrecy, and strong-arm tactics, the U.S. Attorney's Office has disclosed its intent to file criminal charges against Congressman Grimm," said the Staten Islander's lawyer, William McGinley, in a statement designed to get ahead of the story. "We are disappointed by the government's decision, but hardly surprised. From the beginning, the government has pursued a politically driven vendetta against Congressman Grimm and not an independent search for the truth. Congressman Grimm asserts his innocence of any wrongdoing."

The 44-year-old former Marine and FBI agent has long been scrutinized by the Justice Department for fund-raising tied to his 2010 race, with two major donors already charged. The Times reports that Grimm's indictment "will include mail fraud and wire fraud and focus on his conduct in connection with a health food restaurant he owned on the Upper East Side of Manhattan after he left the Federal Bureau of Investigation in 2006."

It was a question about the campaign finance allegations from NY1 reporter Michael Scotto that put Grimm in the national spotlight after January's State of the Union address. "You're not man enough," responded Grimm, on-camera, before the physical threats.
They weren't his first: Grimm was also once "involved in an altercation at a popular West Indian-themed night club in Queens called Caribbean Tropics, during which he was accused of misusing his F.B.I. authority." (You may also remember the Bay Ridge bathroom adventure.) A real beacon of Staten Island pride, this guy.

"When the dust settles, he will be vindicated," said his attorney. "Until then, he will continue to serve his constituents with the same dedication and tenacity that has characterized his lifetime of public service as a Member of Congress, Marine Corps combat veteran, and decorated FBI Special Agent."