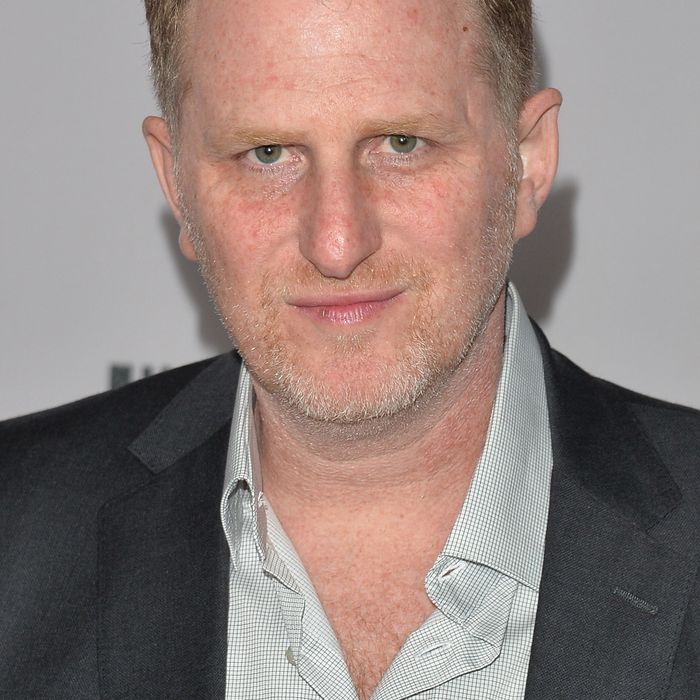 Michael Rapaport.
Photo: Alberto E. Rodriguez/Getty Images
Michael Rapaport has appeared onscreen in dozens of TV shows and movies, but the native New Yorker and lifelong Knicks fan has stepped behind the camera to direct When the Garden Was Eden, a "30 for 30" documentary on the Knicks' glory days, based on Harvey Araton's terrific book of the same name. In advance of the film's premiere tomorrow night at the Tribeca Film Festival, Rapaport spoke with Daily Intelligencer about the Knicks' title teams, why they'll win another championship within five years, and why change is good for Brooklyn.
How did the project come about? Did you read the book and just say, "I need to make the film version"?
I'm a longtime New York Knicks fan, and had been talking to ESPN about doing something over there, and playing around with different ideas. Then the book came out. They had been familiar with the book and with the story, and I think Harvey's book was a good template. You know, obviously the story's been told. Harvey's book was a new, fresh template on it, and we just jumped in.
The book is really thoroughly reported. Did you talk to everyone you wanted to for the film?
There was a couple people we wished we could have talked to. We couldn't talk to all of the Knicks, just because they're not all in New York or L.A. And we traveled as much as we could, but we just couldn't track everybody down. I would have loved to have been able to talk to Woody Allen, because he's such a Knicks fan, to get his perspective on it, just from somebody who's just a pure fan, and who's been there watching the games diligently over the years. For the most part, we got everybody we wanted to, within reason. You never want to stop shooting, you never want to stop editing, but at a certain point, you have to go with what you got. We certainly had more than enough.
You were a little young to have watched the Knicks championship teams. What did you learn about them while making the film?
I learned a lot of stuff, because the film centers on the Knicks team, but the setup of the film really kind of articulates the realities of being a professional basketball player, and also what the NBA was like at the time. At first, there were eight teams in the NBA, then there were ten teams in the NBA. Guys were not making a living. It wasn't, like, a proper living. It was just kinda this side thing. It would almost be like playing Arena Football — like if you were a really good Arena Football player. It was equivalent to that, almost, financially. So just learning about that learning about what they did to make ends meet was interesting and really surprising. Stars — like, everybody. All of them — John Havlicek from the Celtics, and Cazzie Russell. They had other jobs while they were famous.
How was your time with Phil Jackson?
He was great. He sat down and he said he was going to give us a half an hour, and he wound up staying with us for two and a half hours. And it was just really in-depth, and I felt like he had a real sense of humor, and he was very passionate and forthcoming. He wasn't guarded. When he's talking about being a coach, I think he's a little guarded. But I think with us, because it was something that was so dear to his heart and informed who he became, I think he was really open. There was no agenda. It wasn't like we were prodding about, Oh, what was Michael Jordan like? What was Kobe Bryant like? It was just about him and his road to becoming a Knick, and the influence it had on him.
As a Knicks fan, what did you think of the Jackson hiring?
I think it's good. I think in three years we'll be where the Knicks are supposed to be, and I think within five years we'll win the championship. I thought it was great. I think if anybody could get us out of the hole that we're in, it would be Phil.
It seems the further we get from those title teams, the more legendary they become.
I feel like they're like wine. They age with time. New York is a basketball city. You walk around New York City — I would love to do a real precise reading on it, but you walk around Manhattan, Brooklyn, the Bronx, Harlem, Queens — you walk around these places, I'd say every 20 or 30 blocks, you're going to see a basketball court. You might see two kids playing, you might see kids rollerblading on a basketball court, you might see full-court being played, you might see old men playing three-on-three, but you're going to see basketball courts in New York City when you walk around the streets.
And it's so much a part of the culture of New York, it's the city's game, and for us not to win a championship — I mean, everybody's won. New York teams have won. The Rangers, the Giants, the Mets, the Yankees, everybody's won. The Islanders — the fucking Islanders have won. But the Knicks haven't won. These teams were so legendary, and there were so many legendary, iconic players — Clyde, Willis, Phil. The more time that it takes for us to win another one, the more important and dear to our heart this team is.
And then obviously for the film, it worked out good, because the Phil Jackson of it all—we couldn't have asked for better timing. It kind of brought it back full circle. And at his press conference, he's talking about those teams and those years, and the influence of Red Holzman, so it just was a fun experience making the film. I can't wait for it to be shown in New York City. At the end of the day, obviously, I made the movie for everybody to see. But I'm a New Yorker, and I made the movie for New York. So I can't wait for people to see it at Tribeca on Thursday. I think it's a really pro–New York movie. The movie's not just about the Knicks. It's about the '60s and the '70s, and it's about New York. It hopefully looks and smells and tastes like New York.
For so long, the Knicks have been the only team in town. Do you think things are going to change, now that the Nets are Brooklyn?
I think New York will always be a Knicks city, but Brooklyn is no slouch. It's a cool, sort of hip team to root for. And they're competitive: They did better than we did this year. It's going to take a long time for the fan base to change, because even the people in Brooklyn and the boroughs, they all grew up Knicks fans. So it's going to take a lot of people to jump ship.
Speaking of Knicks fans, what did you think of Spike Lee's comments about Brooklyn.
I think what's happened to Brooklyn is great. I think when the neighborhoods were wild — when East New York was wild, when Fort Greene was wild — these were places that people didn't want to go, parts of those neighborhoods. So, I think it's good. I think growth is good. I think change is good, and I think it's healthy. Spike Lee lives on the Upper East Side, so I don't know what he's talking about.
This interview has been edited and condensed.