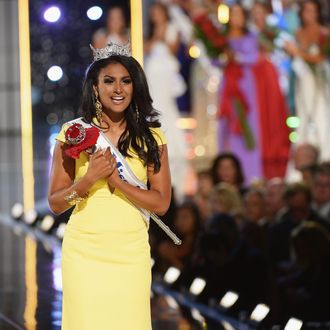 Photo: Michael Loccisano/2013 Getty Images
Last week, 18-year-old Patrick Farves got hit with three days of in-school suspension for asking Miss America (a.k.a.Nina Davuluri) to prom during her appearance at Pennsylvania's Central York High School. On Saturday, Davuluri took to the Miss America Facebook page to tell everyone she had "reached out to the school in hopes that they will reconsider their decision" to take disciplinary action against her teen suitor.
She also wrote that she was "flattered by the gesture," though she would be unable to attend the dance "because of [her] travel schedule." Somehow, we doubt Central York's administrators — who say they warned Farves not to pull the stunt beforehand — will be swayed by Miss America's appeal, and that's probably for the best: Even if Davuluri is too gracious (or too image conscious) to reject him outright, it's a good time for this kid to learn that a mere willingness to embarrass yourself in public isn't always rewarded with some slow-dancing.