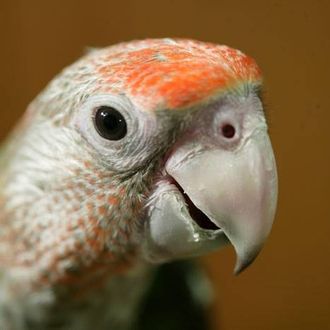 About 48 hours after flying away during a routine visit to a park, Truman the parrot has been found, his happy-sounding owner announced on Facebook. It turns out that Truman — who regularly performs for groups of people with human Michael Sazhin, visits TV sets, and has a large internet following — made it all the way from Brooklyn's 16th Avenue and 75th Street to Canarsie, where he spent several hours "screaming" in some guy's yard.
"I got the call around 11:30AM," Sazhin wrote. "Sure enough Truman was sitting on top of the awning playing around. He wasn't desperate at all and wasn't all that eager to leave. After letting him finish an almond outside, I put his harness on and took him home. He's in good shape and still has energy to fly."
In an update a few hours later, Sazhin let everyone know that Truman "is doing just fine like nothing even happened," though he did notice "a heavy tiredness in his eyes." In addition to thanking those who helped him look for his green bird, Sazhin thanked Truman himself. "He not only has free flight but he also has free will," the human noted. "I could not MAKE him come back with me. But he made the choice to and that is very important to me." In that spirit, Sazhin explained that he would not be clipping Truman's wings, though he also doesn't plan to let him do any more "free flying outside." The parrot had his chance.