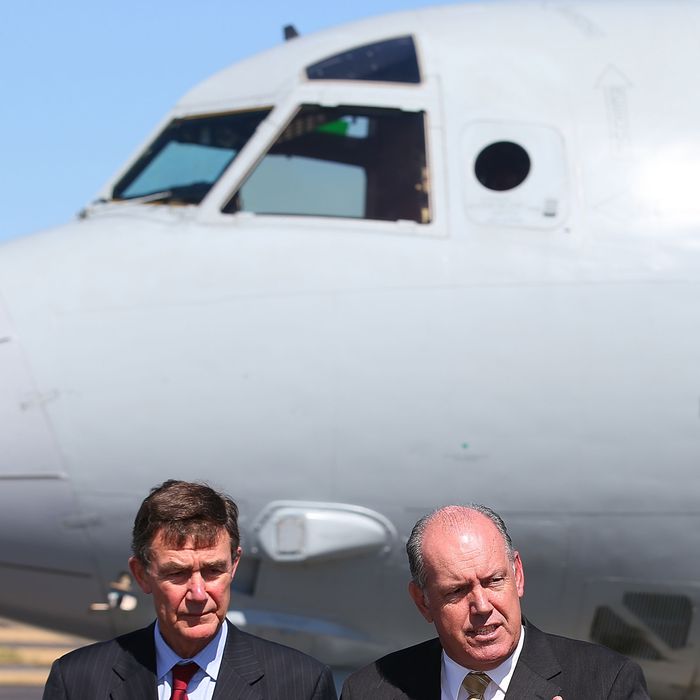 Defence Minister David Johnston (R) and Air Chief Marshal Angus Houston at a press conference on April 8 in Perth, Australia.
Photo: Paul Kane/2014 Getty Images
An Australian vessel has picked up two more underwater "pings" consistent with signals from an airplane's black box, and the official coordinating the search says he's hopeful that wreckage from Malaysia Airlines Flight 370 will be found "within a matter of days." The Australian navy's Ocean Shield lost the signal after picking up two pings on Sunday, but on Tuesday it detected two sounds "not of natural origin." The pings were heard for just five and a half and seven minutes, and the signals were weaker than they were two days ago. That would fit with black boxes running out of battery life after a 33-day search. "What we're picking up is a great lead," said Air Chief Marshal Angus Houston. "I have confidence that we're in the right area. I'm not prepared to confirm anything until such time as someone has laid eyes on the wreckage."
Fifteen aircraft and 14 ships are still searching the Indian Ocean for signs of wreckage on the surface, but locating the black boxes and other debris underwater will be far more difficult. The Ocean Shield, which is equipped with a U.S. Navy pinger locator, is the only vessel currently searching underwater, as more ships would just create noise pollution.
Now searchers are hoping to use the last transmissions from the black boxes to narrow down the underwater search area before deploying the Bluefin-21, an unmanned submarine that can create a sonar map of debris on the ocean floor. The Bluefin-21 moves about six times slower than the pinger towed by the Ocean Shield, and can only dive to a depth of about 2.8 miles. Parts of the search area are deeper than that, as shown by the Washington Post's excellent graphic.
It may take different underwater vessels and multiple attempts to determine whether Flight 370 is at the bottom of the Indian Ocean, but Houston said he's "optimistic that we will find the aircraft, or what is left of the aircraft, in the not too distant future."