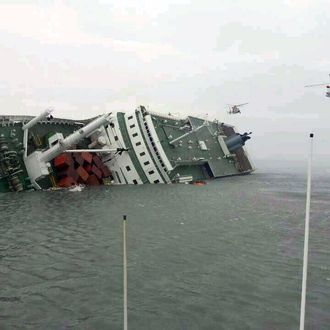 Photo: Handout/2014 Republic of Korea Coast Guard
The tragedy in Mokpo, South Korea, where a ferry carrying 475 people, including more than 300 high-school students, capsized on Wednesday, is ongoing. While searchers try to reach the nearly 300 people still missing, a vice-principal who escaped is dead in an apparent suicide, found hanging from a tree near the makeshift camp for the families of victims. Kang Min Kyu, 52, was one of the first people pulled from the ship after what was reportedly a botched evacuation and rescue. 
Meanwhile, South Korean prosecutors have announced arrest warrants for the the captain, Lee Joon Suk, and two additional crew members. "It is not clear where [the captain] was when the accident occurred, although it is clear that he was not in the steering room before the actual accident happened," state prosecutor Jae-Eok Park said Friday.
At least 28 people have been confirmed dead so far; 179 were rescued, including the captain. "I am really sorry and deeply ashamed," he said in a brief television appearance, his face covered. "I don't know what to say."