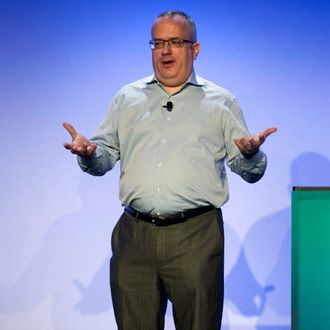 Brendan Eich
Photo: David Maung/Bloomberg via Getty Images
#Hashtag #activism claimed another victory this week, as Mozilla CEO and JavaScript inventor Brendan Eich has stepped down following weeks of attacks on his 2008 donation in support of Proposition 8, the California gay-marriage ban.
"Brendan Eich has chosen to step down from his role as CEO," Mozilla said in a blog post announcing the change. "He's made this decision for Mozilla and our community."
The heat on Eich intensified this week when OKCupid, the dating site, urged its users to boycott Firefox, Mozilla's flagship browser, due to Eich's opposition to gay marriage. (Or, at least, his opposition as of 2008 – Eich hasn't said whether or not he still holds that view.) And although Mozilla quickly backtracked and stated its commitment to equality, it was too little too late. What started as a six-year-old personal donation had become a liability for the company's public image, and perhaps for its employee morale and recruitment as well.
"It's clear that Brendan cannot lead Mozilla in this setting," Mozilla executive chairwoman Mitchell Baker told Re/code's Kara Swisher. "The ability to lead — particularly for the CEO — is fundamental to the role and that is not possible here."
The company hasn't announced a successor.