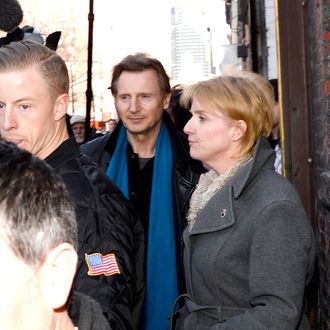 Neeson visiting the horses.
Photo: Ben Gabbe/2014 Getty Images
Back in March, man of action Liam Neeson took a dozen City Council members to visit of one of Central Park's stables in order to demonstrate the misguidedness of Mayor de Blasio's vow to end New York's horse-drawn carriage industry. The actor, who maintains that the horses are "well cared for," also told reporters that he was "disappointed" that de Blasio didn't "man up" and join him on the tour. On Tuesday, he tried a slightly less aggressive approach: He wrote a New York Times op-ed in response to de Blasio's Friday promise to deal with the carriage-horse issue by the end of the year.
In addition to pointing out that a majority of New Yorkers want to keep the horses, Neeson maintains that there's nothing inhumane about making the animals pull tourists through traffic all day. He knows this because he's met other horses before, both on nice-sounding farms and on movie sets:
As a horse lover, I grew up riding and caring for two horses every summer on my aunt's small farm in County Armagh, Northern Ireland. I have continued to enjoy working with horses in a professional context over the years, appearing in a couple of Westerns and what I call "cowboys in armor" movies.

I can appreciate a happy and well-cared-for horse when I see one. It has been my experience, always, that horses, much like humans, are at their happiest and healthiest when working. Horses have been pulling from the beginning of time. It is what they have been bred to do.
And, just in case de Blasio isn't moved by actor's supposed horse-expertise: Neeson also wrote that the proposed ban on the carriage horses is a "class issue" pitting immigrant drivers and caretakers again real-estate-industry-funded animal rights activists who are just paving the way for developers to take over the land currently occupied by the stables. At least Neeson knows his enemy.