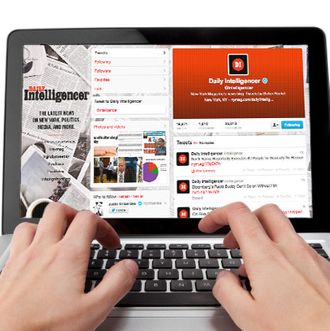 Welcome back to the New York Magazine Competition. On alternate Mondays, we'll lay out a challenge and offer a sample responses. Enter in the comments section, or on Twitter with the hashtag we've provided, and the editors will select a winner. Criteria are highly subjective, but heavily retweeted and favorited posts will have an advantage. The prize is a year's subscription to New York in print or a two-year subscription to the iPad edition (winner's choice). Full rules are here.
COMPETITION NO. 19: GOOD TAGLINE, WRONG PRODUCT. Please offer an ill-suited advertising slogan. For example:

"Guess What Day It Is!"   —Frank E. Campbell Funeral Chapel
"Giant Blowout Sale!"  —Firestone Tires
"We Try Harder." —Cialis
Enter on Twitter with the hashtag #goodtaglinewrongproduct, or in the comments thread below, by April 16. 
RESULTS OF COMPETITION NO. 18: EASTER SUNDAY MATINEE, in which you were asked to supply a film or TV title modified for Easter viewing.
HONORABLE MENTION TO:
Take the Bunny and Run
—GailA329
Things to do in Gethsemane When You're Dead
—designnmind
For The Goys
—RustyShackelford
Thoroughly Modern Lily
—CKondek
The Eggs-Files
—DonRocco
The God Father
—rmtmiller
Born on The 22nd of March through The 25th of April
—Barry75
The Hatchelor
—r20
LENT: The Musical
—davidrnc 
The Slicing of the Lambs
—hamburgertime
I'm Gonna Git You Seersucka
—FarmRaised
HARE: The Musical
—grafixbabe1 
M*A*S*S
—Realhaha
Splendor in the Cheap Plastic Grass That Gets Shredded All Over the Damned Living Room Rug
—jhartarl
Palm Sunday in the Park with George
—frankcoyne 
Peep Throat
—lionhorse
Twin Peeps 
—@wordnerdporvida  
How to Raise a Guy in 3 Days
—fizbadger
Thirty Easy Pieces
—queasyrider
The New Adventures of Old Christ
—@ThatMattSiegel 
It's Kind of a Bunny Story
—@Jap_Rap 
Dye Hard
—MiddleCoastDan
There's Something About Mary Magdalene
—beastly1
AND THE WINNER IS…
Ladies and Gentlemen, the Rolling Stone
—joscohen