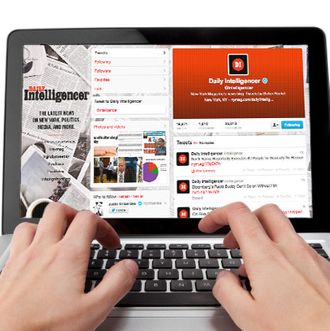 Welcome back to the 
New York
 Magazine Competition. On alternate Mondays, we lay out a challenge and offer a sample responses. Enter in the comments section, or on Twitter with the hashtag we've provided, and the editors will select a winner. Criteria are highly subjective, but heavily retweeted and favorited posts will have an advantage. The prize is a year's subscription to 
New York
 in print or a two-year subscription to the iPad edition (winner's choice). Full rules are 
here.
COMPETITION NO. 20: TWITTER BEFORE TWITTER. Please offer a long-lost 140-character post. For example: 
"17 points up, 15 weeks to go. Hit me with your best shot, @ghwbush." —@MikeDukakis

 "Headed to see Franz Ferdinand in Sarajevo. Anyone staked out good seats?"  —@GavPrincip

"Gorgeous sunset over the mountain. Getting dark early though. #whatsthatsmell" —@PlinyinPompeii
Enter on Twitter itself with the hashtag #prototwitter, or in the comments thread on nymag.com's Daily Intelligencer, by April 30.

Winner and runners-up will appear in the next issue. Criteria are subjective, but favorited and retweeted posts have an edge. The prize is a year's subscription in print or two years on the iPad (winner's choice).
RESULTS OF COMPETITION NO. 19: GOOD TAGLINE, WRONG PRODUCT, in which you were asked for a familiar advertising slogan, badly redeployed.
HONORABLE MENTION TO:
"I coulda had a V8!" —Toyota Prius
—geedog

"It's better in the Bahamas." —Bernie Madoff &  Associates
—fcabarbie
"Trix are for kids!"  —Office of the New Jersey Governor
—RustyShackelford
"Like a rock."  —Sealy
—@janetoberfoell
"Good to the last drop." —Lalique
—deadbrilliant
"Snap. Crackle. Pop." —Verizon Wireless
—@drcycdmn
"You deserve a break today." —Boniva
—@mhender648
"Think different." —Risperdal
—psybab
"The other white meat." —Fruit of the Loom
—KimBarget
"Stay hungry!" —Lean
Cuisine
—@DanielPaisner
"Hefty! Hefty! Hefty!" —Weight Watchers
— jade7243
"Clears even the toughest clogs." —Chipotle
—@Jap_Rap
"A diamond is forever." —Shea Stadium
— jhartarl
"Everything must go!" —Smith & Wesson
—@mimitweets25
"If it matters to you, it matters to us."—The NSA
—designnmind
"Just do it."  —Tinder
—dinosgoroar
"Isn't life juicy?" —Clearasil
—Fishpeddler
"1/2 off your second visit!" —The Betty Ford Center
—max.blowers
"What's in your wallet?" —the IRS
—JDuggar
"Subway. Eat fresh." (the MTA)
—ProofProf
AND THE WINNER IS:
"Betcha can't eat just one!" —OxyContin
—JPLBK