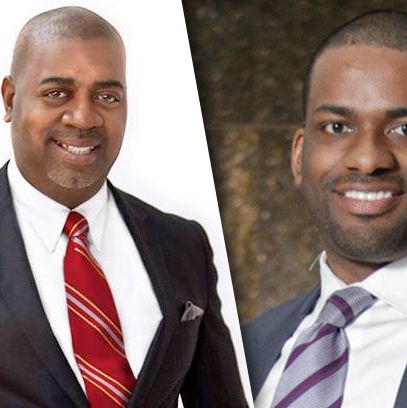 Photo: Courtesy of candidate's facebook
The race to permanently replace Cory Booker as mayor of Newark has gotten a little crazy: Right now, former Newark city council head Luis Quintana is finishing out the term that Booker left when he became New Jersey's junior Senator, but he isn't trying to hold onto the seat after the scheduled election on May 13. Two Democrats — activist Ras Baraka and attorney Shavar Jeffries — are running against each other for the office. In mid-February, a surveillance camera caught a man setting fire to an empty Baraka campaign bus and, for good measure, pouring sugar in the gas tank.
Investigators also saw that a white Chevy van was "involved" in the incident and, on March 7, the cops pulled over 35-year-old Shareef Nash as he drove the vehicle. While Nash hasn't (yet) been charged with anything, he did turn out to be a Jeffries campaign employee. Meanwhile, on Tuesday, the Essex County Prosecutor's Office put out a warrant for the arrest of the person who does appear to have set fire to Baraka's bus: 43-year-old Michael Benkowski, whom they charged with third-degree arson, third-degree criminal mischief, and third-degree burglary.
Benkowski remains at large, but the New Jersey Star-Ledger reported on Wednesday that he also has ties to Jeffries: According to campaign filings, Benkowski worked as a canvasser for the campaign and was last paid in December, though a spokesman said that he has since left the job. "Anyone involved in this arson must be prosecuted to the fullest extent of the law. Let me be crystal clear: I do not condone any activities that violate the spirit or letter of the law and neither does my campaign," Jeffries said yesterday. Though Baraka has said that there is "no evidence" that his opponent knew what his employees were up to, he has publicly demanded that Jeffries "admonish them, call for justice, and call for their arrest."
The bus fire is just the latest in a series of allegations of misconduct, corruption, and voter intimidation exchanged by Baraka and Jeffries. With only six weeks to go until voting day, both candidates have called for federal monitors to oversee the election. It sounds like they need them.