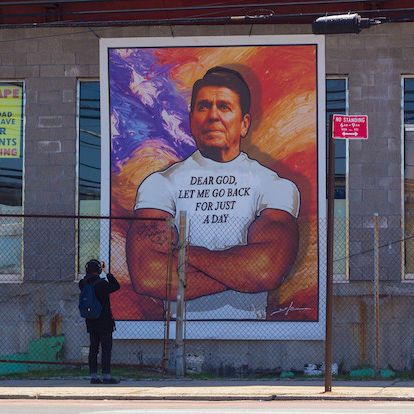 Photo: DNAinfo/Nicholas Rizzi
Self-described "American Artist" Scott Lobaido, whose website features a dedicated "Patriotism Gallery," has unveiled a 13-by-18-foot mural of former President Ronald Reagan dressed as some sort of greaser. "Dear God, Let Me Go Back For Just A Day," reads the slogan across his white tee. "Putin and Kim Jong-un would be wearing diapers if Reagan were here for just a day," the artist tells DNAinfo with what appears to be intense sincerity.
DNAinfo reports that the work will be traveling around the city, so everyone can bask in its American-ness. For those thinking about making the pilgrimage, it's currently in Staten Island, fittingly, considering that's where New York keeps all of its Republicans.
"Reagan created the patriotic beast in me over 20 years ago," said Lobaido. "I want the viewer to remember the days when we were all proud and felt strong and free with little fear, knowing that our leader was there to lead." Hence the enhanced guns. USA!